VIATEC unveils ten Greater Victoria COVID Heroes during live, streamed event
VIATEC unveils ten Greater Victoria COVID Heroes during live, streamed event
VIATEC put on a special one-time celebration of the people and organizations in Greater Victoria that made exceptional contributions to Greater Victoria during the COVID-19 pandemic.
December 18, 2020 (VICTORIA, BC) - In place of the popular VIATEC Awards event that was cancelled in June, VIATEC (Victoria Innovation, Advanced Technology & Entrepreneurship Council), put on a special one-time celebration of the people and organizations in Greater Victoria that made exceptional contributions to Greater Victoria during the COVID-19 pandemic.
"COVID-19 has made an impact on everyone and we wanted to help by allowing us all take a moment from reacting and adapting, to taking a moment to shine a light on those that have stepped up and played a role in helping others deal with the challenges and loss that a pandemic brings," said Dan Gunn, CEO of VIATEC.
Nominations came in from all over Greater Victoria with stories ranging from volunteer work, healthcare, science and technology, fitness, arts and more.
"We had some folks nominate their caretakers, local business owners and even their neighbours for going the extra mile to make a difference," continued Gunn. "It was extremely inspiring to read all the nominations that came in, and it was extremely difficult for the judges to narrow it down to just ten."
COVID Heroes was streamed on VIATEC and Chek News' Facebook pages and YouTube channels as well as Shaw Cable. Viewers tuned in to learn more about the COVID Heroes and celebrate positive news stories. Switching gears from VIATEC's usual, elaborate set designs, the event stuck with a community grassroots feel and had all presenters log into Zoom from their homes and offices for the show.
Each COVID Hero will receive VIATEC's "AstroDot" custom trophy, (with a special mask accessory) created by local artist Russel Papp, and the honour and pride of being named a COVID Hero by their community.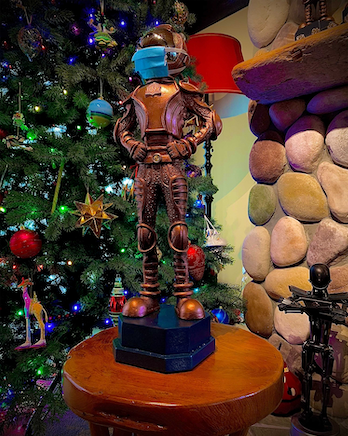 COVID Heroes:

Brianne Budlovsky


Brianne is an ER doctor who returned to work after 6 months maternity leave right at the beginning of the pandemic. She created the "DoctorBri" Instagram account which quickly amassed close to 3,000 local followers who tune in for regular updates and snippets of advice.



Accent Inns & Hotel Zed Victoria


They kept their doors open to health-care staff and essential workers when COVID-19 hit, partnered with United Way to create the "Hotels for the Frontline Workers Fund," partnered with the Cancer Society of BC to offer safe rooms for these patients undergoing treatment, gave guests the option to donate 25% of their room rate to Variety the Children's Charity, and their CEO, Mandy Farmer, sent $250 grocery gift certificates to all the employees — including those who were temporarily laid off. Most recently, Hotel Zed Tofino also opened its doors for a safe place for First Nations to isolate.



Jimbo


Jimbo is a local performer and designer who in the height of his recent fame from Canada's Drag Race, continued to do good for the community with his team through the Mask 4 Mask project. Jimbo and his team made face masks in fun, colourful patterns and for every mask they sold, they personally handed one to a homeless person. Sewing up to 18 hours a day, Jimbo scaled up production by putting everyone to work in assembly-line fashion. A new website was also launched in order to help him sell and donate masks across Canada.



The Rapid Relief Fund


A coalition of business and philanthropic partners joined together to launch the Rapid Relief Fund to quickly disburse grants to local Registered Charities and Qualified Donees. This provided front-line services to vulnerable populations whose staff, volunteers, programs, and operations have been impacted by COVID-19. Over 13,000 donors stepped forward including several inspiring tech leaders who stepped up to the plate and offered matching gifts and donations that helped to distribute over $500,000 in relief. Among this group that were spotlighted were: Ho Kim & Friends, Andrew Wilkinson, Rumble, Heart Pharmacy, the Lake Family and the Victoria Foundation.



Smaragda Agathoklis


Working as an outreach nurse through the pandemic, Smaragda took on more hours working in the downtown core supporting the most vulnerable community members. Outside her work hours, she organized clothing donation pick ups from friends and family to bring to Victoria residents who were forced to live outside in the established camping areas, as many donation centers were closed.



StarFish Medical


StarFish Medical made the decision early on in the pandemic to dedicate over 100 staff and its expertise to developing an innovative ventilator that could be produced quickly to meet demand. Once designed and approved by Health Canada, StarFish continued to use its connections and partners to help source suppliers and get it into production.



Delusional Theatre Society


The weekly "Hootenanny", which previously ran for 15 years at Logan's Pub, was transformed into a free, weekly live-stream on Facebook and YouTube. It has garnered over 25,000 views and has helped independent local artists be seen internationally. The show has featured over 250 performing artists who are grateful for the unique opportunity it provides and the show now hosts artists from all over Canada, the US, Europe and Australia. They also pivoted from a theatre company to a new media tech company and provide instructional videos to other performers across the country.



Redlen Technologies


Redlen Technologies designs and builds radiation sensing equipment to medical and security imaging customers around the world. As many of their customers are considered essential businesses, Redlen's operations had to remain open to supply the demand. In addition to keeping their team safe by redesigning their workspace, they redeployed their 3D printers to make face shields and donated several hundred N95 masks to the Saanich Peninsula Hospital Foundation to help with their PPE shortage.



James Bay New Horizons Society


The staff at James Bay New Horizons kept the centre open every week day to allow seniors to use the book and DVD library, and have an escape from home. They also offered weekly produce from the Food Share Network and personal hygiene items to financially struggling seniors. The staff also answered requests for grocery shopping, prescription pick-up, providing transportation to the Cancer Centre, as well as a meal delivery service. To date, they have organized grocery shopping for over 10,000 people in the Greater Victoria area, and they deliver three prepared meals to up to 235 isolated clients in the CRD.



The Vancouver Island COVID 3D Printing Group


The Vancouver Island COVID 3D Printing Group coordinated over 100 volunteers to use 3D printers to create face shields and ear protector clips for medical masks. Many of them worked 24 hours per day printing, delivering, purchasing more filament, and designing improvements to the CAD models. They collaborated with a Vancouver group to set up a sophisticated order tracking and delivery route planning system and maintained close communication with the UVic and VIHA teams to support one another with supplies, logistics, and technical knowledge. Together they supplied hospitals, ambulance stations, police and fire departments, senior homes, homeless support workers, rehab centers, midwives, dentists, and so many more.
MEDIA CONTACT:
Dan Gunn
CEO, VIATEC
dgunn@viatec.ca
250-882-2820
About VIATEC:
VIATEC (Victoria Innovation, Advanced Technology and Entrepreneurship Council), started in 1989. VIATEC's mission is to cultivate the most cohesive tech community in the world by providing resources to tackle shared opportunities and challenges while boosting a sense of belonging and shaping our region. (Victoria's biggest industry is tech!).
We work closely with our members to offer a variety of events, programs and services. In addition, VIATEC serves as the front door of the local tech sector and as its spokesperson. To better support local innovators, we acquired our own building (Fort Tectoria) where we offer flexible and affordable office space to emerging local companies along with a gathering/event space for local entrepreneurs. www.viatec.ca
Additional Info
Media Contact : Dan Gunn, CEO, VIATEC: dgunn@viatec.ca
Source : www.viatec.ca