Events have proven to be an amazing tool for VIATEC to serve our members and they often achieve multiple goals at once. They provide a dynamic vehicle to recognize our leaders as examples, to learn from each other and experts, to celebrate wins and failures.
This event calendar contains not only VIATEC organized events, but events from the local tech sector and community! Scroll, read and register!
Click the "+" icon to post an event to our calendar!*
*Subject to approval by VIATEC. Events must be a minimum of 3 weeks out or they may not be approved. Please include bullets for "What you'll learn" or "What will be discussed".
Questions? Contact tectoria@viatec.ca
[Full Event Calendar]  [VIATEC Events]  [Tech Events]  [Community Events]
iWIST Newcomers Event
Thursday, June 10, 2021 (12:00 PM - 1:00 PM) (PDT)
Description
For all iWIST Members and those new to Victoria. Welcome to Victoria! – What Women in STEM Need to Know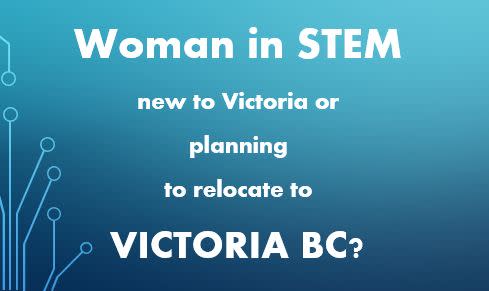 If you moved to Victoria sometime in the past few years, you've probably noticed that it's unlike any other city you've ever lived in. Some newcomers find it easy to adapt and for others it's more challenging. Join the women of iWIST who want to welcome you to this city in this interactive event and discover top tips for making your move to Victoria a success. Facilitated by Sue Maitland PCC a professional Life & Career Transitions Coach and a recognized local expert in helping newcomers to Victoria make a smooth transition.

Presented by: Sue Maitland. Sue spent over 20 years in the high-pressure world of IT consulting before reinventing herself and training to be an ICF Accredited Coach. For the past 8 years she had helped professionals, many of whom are women in STEM, make successful life and career transitions. 4 years ago, Sue developed a niche in her practice to help newcomers to Victoria and she offers a free monthly seminar An Insider's Guide to Moving to Victoria that has helped 100's of people understand more about the city they have chosen to move to. She also teaches workshops and speaks on the importance of building a network, something she says is an essential skill in Victoria.
REGISTER: http://events.r20.constantcontact.com/register/event?oeidk=a07ehyywjl6ce3336bb&llr=o6corpsab
Pricing
FEE: FREE for IWIST members, $5.00 students, $10.00 all other attendees.
Virtual



Victoria

,

BC

Canada



Online Zoom. Meeting link provided with registration.
http://events.r20.constantcontact.com/register/event?oeidk=a07ehyywjl6ce3336bb&llr=o6corpsab
Thursday, June 10, 2021 (12:00 PM - 1:00 PM) (PDT)
WHEN: Thursday, June 10, 2020 12:00 – 1:00pm PDT
Categories
Tech Events
Community Events
Virtual
Leadership
Story Telling
Diversity, Equity and Inclusion