WeGrowTogether: Celebrating 15 Years of Mentorship with WeBC
WeGrowTogether: Celebrating 15 Years of Mentorship with WeBC
Tuesday, March 7, 2023 (1:00 PM - 3:00 PM) (PST)
Description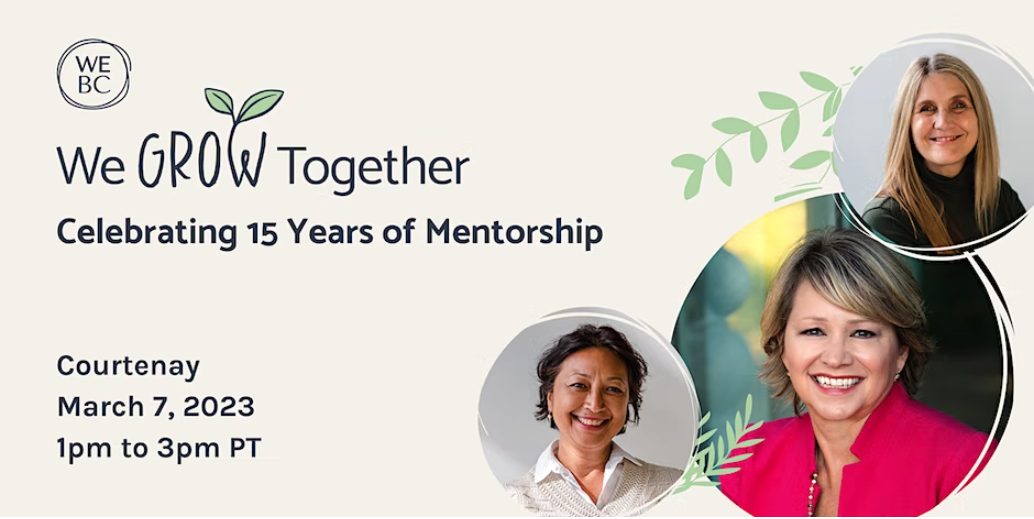 Over the past 15 years, more than 2,400 women have united in our Mentoring programs to share knowledge, offer support and grow their businesses together!
On the eve of International Women's Day, join us to reunite in-person at a live event in Courtenay with the women who have supported your entrepreneurial journey. You'll hear from a panel of local women who will share their mentorship stories and celebrate with a livestream toast with 7 communities around the province.
Crown Isle Resort & Golf Community
399 Clubhouse Drive Courtenay



Courtenay

,

BC

V9N 9G3

Canada



Tuesday, March 7, 2023 (1:00 PM - 3:00 PM) (PST)
Categories
Community Events
Diversity, Equity and Inclusion
Events have proven to be an amazing tool for VIATEC to serve our members and they often achieve multiple goals at once. They provide a dynamic vehicle to recognize our leaders as examples, to learn from each other and experts, to celebrate wins and failures.
This event calendar contains not only VIATEC organized events, but events from the local tech sector and community! Scroll, read and register!
Click the "+" icon to post an event to our calendar!*
*Subject to approval by VIATEC. Events must be a minimum of 3 weeks out or they may not be approved. Please include bullets for "What you'll learn" or "What will be discussed".
Questions? Contact tectoria@viatec.ca
[Full Event Calendar]  [VIATEC Events]  [Tech Events]  [Community Events]