2023 Discover Tectoria - FREE to Attend!
2023 Discover Tectoria - FREE to Attend!
Friday, June 2, 2023 (10:00 AM - 5:00 PM) (PDT)
Description
NO REGISTRATION REQUIRED - FREE TO ATTEND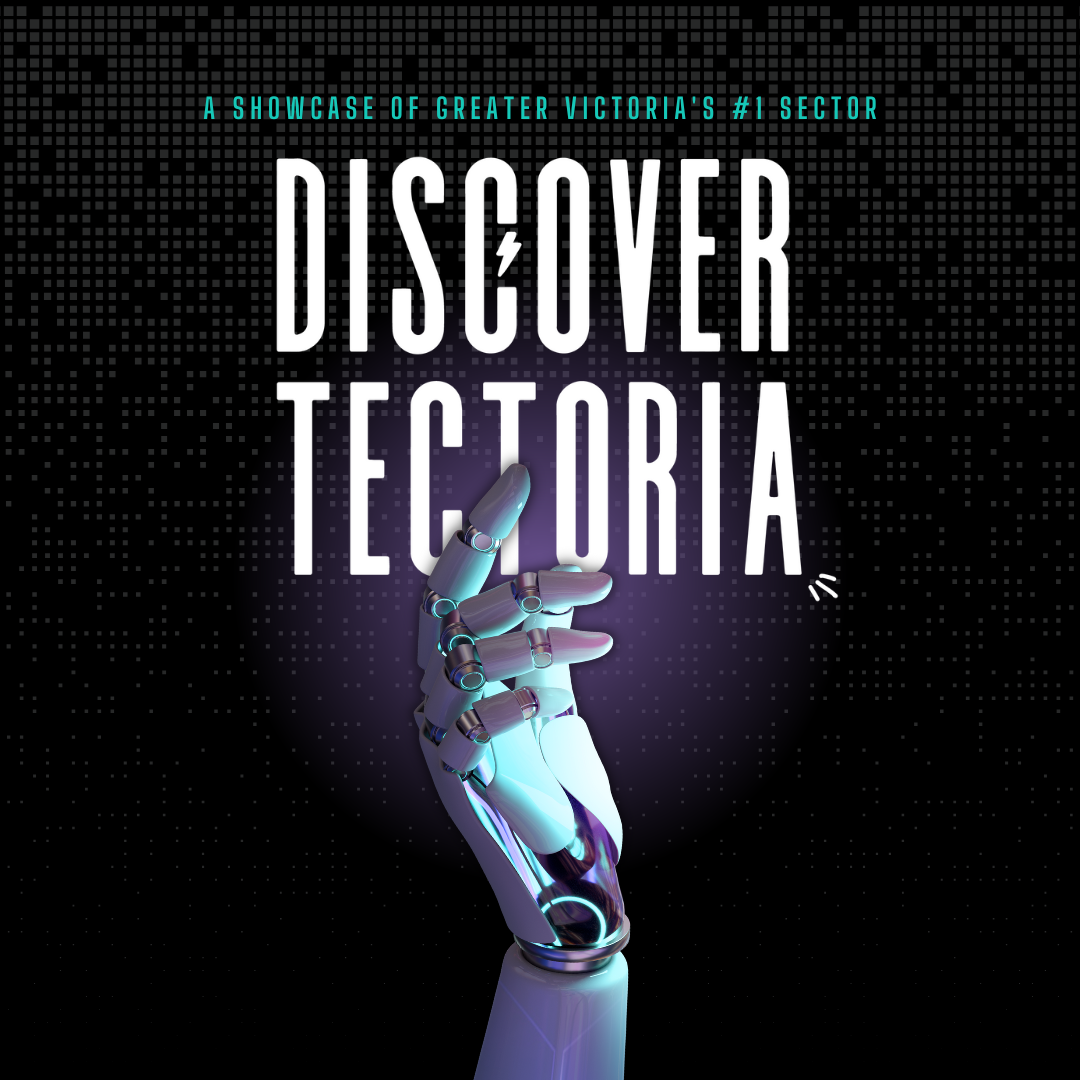 NO REGISTRATION REQUIRED - FREE TO ATTEND
Discover Tectoria is the ultimate Tech showcase event of the year! Boasting over 4000 attendees that will interact with over 75 of Victoria's most innovative and forward-thinking companies. Featuring career talks, keynotes, ground-breaking local research and product demonstrations. Come and attend this FREE event and see what our amazing tech sector has to offer!
Attendees get to interact with the people and their creations to better understand who and what is driving Victoria's largest industry...leading to potential careers, connections or just an appreciated knowledge.
VIATEC created this event to open the eyes of potential employees, investors and policy makers to the vibrancy and potential of the local tech scene... not to mention inspiring tomorrow's inventors.
Who attends?
Job Seekers! Find out who's hiring and what you need to land your dream job. Bring your resumes and business cards!
Investors looking for new opportunities to engage and invest with local companies on the rise
Government officials and policy makers to hear first-hand about the challenges and opportunities facing BC tech companies
Media looking for fresh stories and the inside track on what's next for Canada's Smartest City
The general public! Whether you are still figuring out how to work a microwave, or know how to write your own code, there will be something for everyone to enjoy at Discover Tectoria
Students of all ages looking to engage in the tech community
Future grads searching for their next co-op placement or full time gig!
Visit These Booths...
Advantages Mediation
Interpersonal conflict and tension can dangerously impact your company's morale and even harm your business. The mediation services, training and consulting offered by Advantages Mediation can poise your enterprise to avoid conflict from escalating and help restore a sense of emotional safety and calm to workplace relations, through proprietary psychological technology.
Angel Forum - Where Investors and Founders connect
Archipelago Marine Research Ltd.
Ocean Experts. Archipelago works with the fishing industry, NGO's, and regulators to implement sustainable practices through at-sea and dockside observer programs, electronic monitoring technology, and marine environmental services.
Aviary Tech is building decentralized identity infrastructure for a more equitable digital future. That means combining an emerging set of technologies and standards to remove the necessity of placing trust in intermediaries.
Leaders in innovative environmental technologies, AXYS is your trusted solution for accurate, reliable, & complete ocean data measurement. AXYS is a global leader in developing innovative technologies for a variety of marine focused applications including offshore wind resource assessment, real-time weather forecasting, and environmental monitoring from the tropics to the poles.
Barnacle Systems Inc is an award-winning manufacturer of security and monitoring products for boats. Barnacle has developed products that are protecting recreational, industrial, and military vessels in over 40 countries around the world.
The BC Public Service has over 36,000 public servants working in 200 different types of jobs across 280 communities. We provide services, programs and policy expertise in areas like health care, public safety, education, and environmental management. The people who work here represent everyone in B.C. This includes Indigenous peoples, minority communities, immigrants, persons with disabilities and the LGBTQ2+ community.
BEACN develops innovative audio equipment, peripherals and technology for gamers, live streamers, and content creators. BEACN is committed to delivering premium products that enable everyone to produce studio-quality content. BEACN's award-winning product ecosystem includes BEACN Mic, BEACN Mix and BEACN Mix Create.
Boast helps you access the billions of dollars available in R&D tax credits and funding to improve insights, and grow faster. Our software integrates your financial, engineering, and project data to increase the speed, accuracy, and size of eligible tax incentives.
Canada Learning Code brings accessible computer science to communities across Canada so everyone can create with technology. We envision a prosperous Canada in which all people have the skills and confidence to harness the power of technology to create a better and more inclusive future.
Canada Revenue Agency - SR&ED, Western Region
Checkfront is the most flexible booking software in the market that saves time and helps thousands of customers take their business to the next level. Since 2010, Checkfront has powered over 5,000 activity, rental, tour and accommodation businesses around the world.
COAST, the Centre for Ocean Applied Sustainable Technologies, is Pacific Canada's hub for the sustainable blue economy, with a focus on driving B.C. innovation in the ocean technology and marine industries.
Codename Entertainment is a Victoria-based video game studio founded in 2008 and probably best known for the officially-licensed Dungeons & Dragons strategy game Idle Champions of the Forgotten Realms. We are a company of passionate gamers who play video games, tabletop games, and card games for pleasure when we aren't making games for fun.
Cosmogence is a global hiring platform that offers an easy way to find qualified, remote employees that fill any number of long term employment roles.
We combine an easy to use global recruitment service with a worldwide payroll system such that employing people from anywhere is as easy as 1-2-3.
Delta-X Research provides Transformer Oil Analyst™ (TOA), the market leading tool for managing and interpreting insulating fluid test data for high-voltage apparatus. Our diagnostic software is a critical decision support tool that delivers accurate and timely assessments into the health of transformers.
Gamify educational VR learning platform development company. We are trying to empower education with entertainment and technology to make learning easy and fun.
E-Porter is a groundbreaking tech app/platform-based company that connects drivers with senders already heading in the same direction, revolutionizing the delivery industry by providing unparalleled, on-demand en-route delivery services that cater to modern consumers' need for speed and convenience. By leveraging cutting-edge technology and a robust logistics network, E-Porter has carved a niche in the market, winning customers with its commitment to efficiency, reliability, and exceptional customer experiences. As a trailblazer in the fast-paced delivery space, E-Porter has captured the attention of industry giants and is poised for rapid growth and expansion, redefining the future of delivery services through innovative technology and seamless connections.
First Light Technologies is a specialized designer and manufacturer of architectural quality, integrated solar powered LED lighting products for pedestrian, parking lot and street applications.
The success of FLT emerges from an extensive solar power system and LED lighting experience and a vision to make solar lighting effective and simple. As a result, First Light Technologies' products are intelligent, adaptive, efficient and robust; while offering a cost effective and sustainable alternative.
FIRST Robotics encourages young people to pursue STEM careers through a suite of inclusive, team-based robotics programs for ages 4-18 (PreK-gr.12) that can be run in class or after school.
Green Suggest is an innovative startup that connects eco-conscious individuals and content providers through a curated 2-sided platform. With our user-friendly mobile application powered by Artificial Intelligence (AI), we deliver personalised upcycling ideas, empowering users to make sustainable choices effortlessly.
Your local Atlassian Gold-Level Partner, with software solutions for your agile teams
Hololabs is a global leader in interactive solutions for immersive mixed reality. They have contributed to a number of award-winning projects, including the Mario Kart - Koopa's Challenge ride at Universal Studios Japan & Hollywood, a breakdance battle game called Floor Kids and their new mobile game Sky Haven: AR Merge Adventure which just launched in Canada.
IDEaS Innovation for Defence Excellence and Security
The Innovation for Defence Excellence and Security (IDEaS) program is investing in innovations for defence and security. IDEaS is seeking potential solutions to the challenges faced by the Department of National Defence and the Canadian Armed Forces, and is offering a variety of funding elements to ensure innovators have the opportunity and resources they need to help shape defence and security capability.
Island Women in Science and Technology (iWIST)
iWIST brings together women and allies in Science, Technology, Engineering, and Math in West Coast island communities. We use the power of community to support you in your career and to promote women in STEM.
Bootstrapped in 2008, Kano is a profitable and growing self-funded independent gaming studio. We create and run free-to-play games as a service and have established gaming communities encompassing millions of players worldwide.
Makerspace is a non profit organization providing shared tools and workspace to members. You can access tools ranging from welding to woodworking to micro electronics in almost 5,000 square feet of space with like minded people of all backgrounds with an emphasis on applied technology in every area. Located at the Vancouver Island Technology Park.
Pursuing rigorous research, developing scientific software, and providing consultancy require the expertise of Mathematics, Engineering, and Scientific Computing (MESC) Labs - where innovation meets excellence.
Metalhead has been on a wild ride that's included humble beginnings as a bootstrapped startup in 2009, three major game launches in 2014, 2018, and 2020, and an acquisition by Electronic Arts (EA) in 2021. Now, we're teaming up with EA SPORTS to grow the Super Mega Baseball franchise, as well as develop new experiences for players worldwide.
The team at Metalhead comes from diverse backgrounds, unified by a passion to make original games. We've supported and inspired each other through the development and evolution of Super Mega Baseball and have built a fiercely loyal fanbase in the process.
MetaTours is an online platform where users can explore and interact with Victoria in an immersive and engaging way with 3D Virtual Tours. Users can explore Victoria from an aerial perspective through our unique "Skyway" view, and can jump to points of interest on land to familiarize themselves with these locations. MetaTours provides visitors to Victoria with content that informs and excites them about their next visit to our beautiful city.
Since 1985 MYRA has been the leader in BC's IT Consulting sector. MYRA is strategically focused on building long-term trusted relationships with our customers. Information Technology is our profession and IT services is our passion.
The National Research Council of Canada Industrial Research Assistance Program (NRC IRAP) is Canada's leading innovation assistance program for small and medium-sized businesses.
Neurotech has developed an app that gives you the benefits of meditation without the years of practice. Our VR brainwave entrainment app leverages the brain's natural 'frequency-following response' to optimize brain performance: naturally, effortlessly and measurably. Clinically validated and based on research commissioned by NASA, this app is engineered to self-manage mental fitness and wellbeing with consumer and therapeutic applications.
Operating on oceans around the world from Victoria BC, Open Ocean Robotics is a rapidly growing startup transforming how we understand our oceans through better data. Using patented technology, we produce industry-leading solar-powered autonomous boats, also called uncrewed surface vehicles (USVs), that voyage inhospitable ocean environments.
Combined with advanced sensors and data analytics and producing no greenhouse gasses or risk of oil spills, we offer a safer, more effective and affordable way of gaining ocean insights. We are transforming how we study, protect and utilize our oceans, and helping to build an ocean IoT.
1. We can increase your software development capacity with our flexible, proficient agile teams that can integrate seamlessly within your projects following proven methodologies and tools.
2. Our team can build scalable and innovative software solutions tailored to your business needs and goals.
3. Protect your organization's valuable data and assets from cyber threats with our comprehensive and proactive security measures and expertise.
RealVault is a technology platform designed specifically for Realtors® to streamline their entire marketing process from start to finish. Our software utilizes template technology, AI, QR codes, and MLS integration to pull all relevant images and text straight from Multi Listing Service (MLS) feeds and auto-populates the data into beautifully branded digital and print marketing materials within seconds.
Redbrick is the backbone of disruptive digital companies. What began in an intimate, red-brick office of software developers has grown into a global name of disruptive tech-first companies that are engaging audiences around the world.
Redlen Technologies' precision radiation detection and imaging technology, and vertically integrated imaging modules are built on a world leading in-house Cadmium Zinc Telluride semiconductor sensor manufacturing capability. The Redlen team is made up of researchers, engineers, designers and production staff delivering high resolution radiation-based imaging technology that propels the company's mission of making the world a healthier and safer place.
Reliable Controls is dedicated to reducing the carbon footprint of buildings around the world. Our team specializes in the design, development, and assembly of building automation controls and software programs.
We align ourselves with the right people and empower them in the right ways. An established company based in Victoria, BC, we nurture a strong culture of communication, trust, and collaboration. Embracing a work–life balance, promoting continuous learning, and celebrating our achievements are a few of the ways we show our enduring commitment to employees. Let's combine our passions for building a greener future!
Rockland Scientific International Inc
Rockland is a thriving ocean technology company where an eclectic team works in an inclusive environment to provide measurement solutions to ocean scientists in 30 countries.
Meet our Rockland representatives at the Tectoria event this June 2, 2023. We are hiring for Instrument Support Technician, Field Support Manager and Production Technologist.
RT Prime Industries Group LTD.
RT Prime where we bring your ideas and designs to life. We take you on the journey through the manufacturing process.
Expand your horizons at Royal Roads University. Discover a wide range of innovative programs designed to cultivate adaptable skills and foster personal and professional growth. Whether you're interested in leadership, sustainablitlgy, entrepreneurship, or other disciplines, Royal Roads University empowers you to thrive in Victoria's dynamic tech scene and beyond. Join us to explore the diverse opportunities our programs offer and unleash your full potential in an ever-evolving world.
SalonMonster's platform empowers self-employed chair-rental hairstylists and beauty professionals with a complete business toolkit including CRM, online booking, marketing tools and integrated payments. Addressing the unique faced by chair renters, salonMonster provides career-spanning control of their business data and the ability to easily and securely share data access with co-workers as needed.
The world's only Social CRM With Automation!
StarFish Medical is a full service Medical Device Design company offering design, development, and manufacturing services based in Toronto and Victoria. Our Pathfinder™ process reduces wasted effort and increases success for medical device product definition, technical engineering, and product development. StarFish Medical received Canada's Most Admired Corporate Cultures for 2021-22 award in the Growth category from Waterstone Human Capital.
Text Groove Communications Inc.
Text Groove is changing the way broadcasters engage their audiences. We have the capability to text-enable any landline, toll-free or VoIP telephone number, allowing media to maintain existing well-known channels. Hundreds of broadcasters use our product to better communicate with their audience.
Vigil (part of ASSA ABLOY Global Solutions Senior Care) is dedicated to improving seniors' quality of life through creative technology. We develop, manufacture and sell sophisticated electronic locking, resident monitoring and emergency call technologies throughout North America.
Websec Information Security Services
Websec is a leading cybersecurity firm focused on evaluating and fortifying the digital safety of businesses. Our skilled professionals simulate real-life cyberattacks to uncover weak spots in your company's online defenses, allowing us to provide tailored solutions for a secure and reliable online environment. Trust Websec to safeguard your organization's data and stay one step ahead of potential threats.
Workday is a leading provider of enterprise cloud applications for finance and human resources, helping customers adapt and thrive in a changing world. Workday applications for financial management, human resources, planning, spend management and analytics have been adopted by thousands of organizations around the world and across industries—from medium-sized businesses to more than 45 percent of the Fortune 500. For more information about Workday, visit workday.com.
Zetron is a worldwide leader in end-to-end mission critical communications. With 80+ years of experience, we have an exceptional reputation for powering high-quality solutions that work seamlessly and reliably in both public and private sectors — anywhere that uninterrupted communications are non-negotiable.
Thank you to our Sponsors & Partners
Images
Pricing
Deadline to purchase a booth is May 25th!
Single Exhibitor Package
Non member $1,250.00
Company member $1000
Sustaining Patron member $875
Community Builder $625.00
Double Exhibitor Package
Non member $1,750.00
Company member $1400.00
Sustaining Patron $1225.00
Community Builder $875
Startup Alley Exhibitor Package
* This area is reserved for Startup companies that are 3 yrs. old or less
Non member $250.00
VIATEC Company member receives a $100 discount
Crystal Garden
713 Douglas St



Victoria

,

BC

V8W 3M6

Canada



Friday, June 2, 2023 (10:00 AM - 5:00 PM) (PDT)
Categories
VIATEC Events
Tech Events
Community Events
Educational/Training
Events have proven to be an amazing tool for VIATEC to serve our members and they often achieve multiple goals at once. They provide a dynamic vehicle to recognize our leaders as examples, to learn from each other and experts, to celebrate wins and failures.
This event calendar contains not only VIATEC organized events, but events from the local tech sector and community! Scroll, read and register!
Click the "+" icon to post an event to our calendar!*
*Subject to approval by VIATEC. Events must be a minimum of 3 weeks out or they may not be approved. Please include bullets for "What you'll learn" or "What will be discussed".
Questions? Contact tectoria@viatec.ca
[Full Event Calendar]  [VIATEC Events]  [Tech Events]  [Community Events]