Events have proven to be an amazing tool for VIATEC to serve our members and they often achieve multiple goals at once. They provide a dynamic vehicle to recognize our leaders as examples, to learn from each other and experts, to celebrate wins and failures.
This event calendar contains not only VIATEC organized events, but events from the local tech sector and community! Scroll, read and register!
Click the "+" icon to post an event to our calendar!*
*Subject to approval by VIATEC. Events must be a minimum of 3 weeks out or they may not be approved. Please include bullets for "What you'll learn" or "What will be discussed".
Questions? Contact tectoria@viatec.ca
[Full Event Calendar]  [VIATEC Events]  [Tech Events]  [Community Events]
Game To Give
Wednesday, October 5, 2022 (6:00 PM - 10:00 PM) (PDT)
Description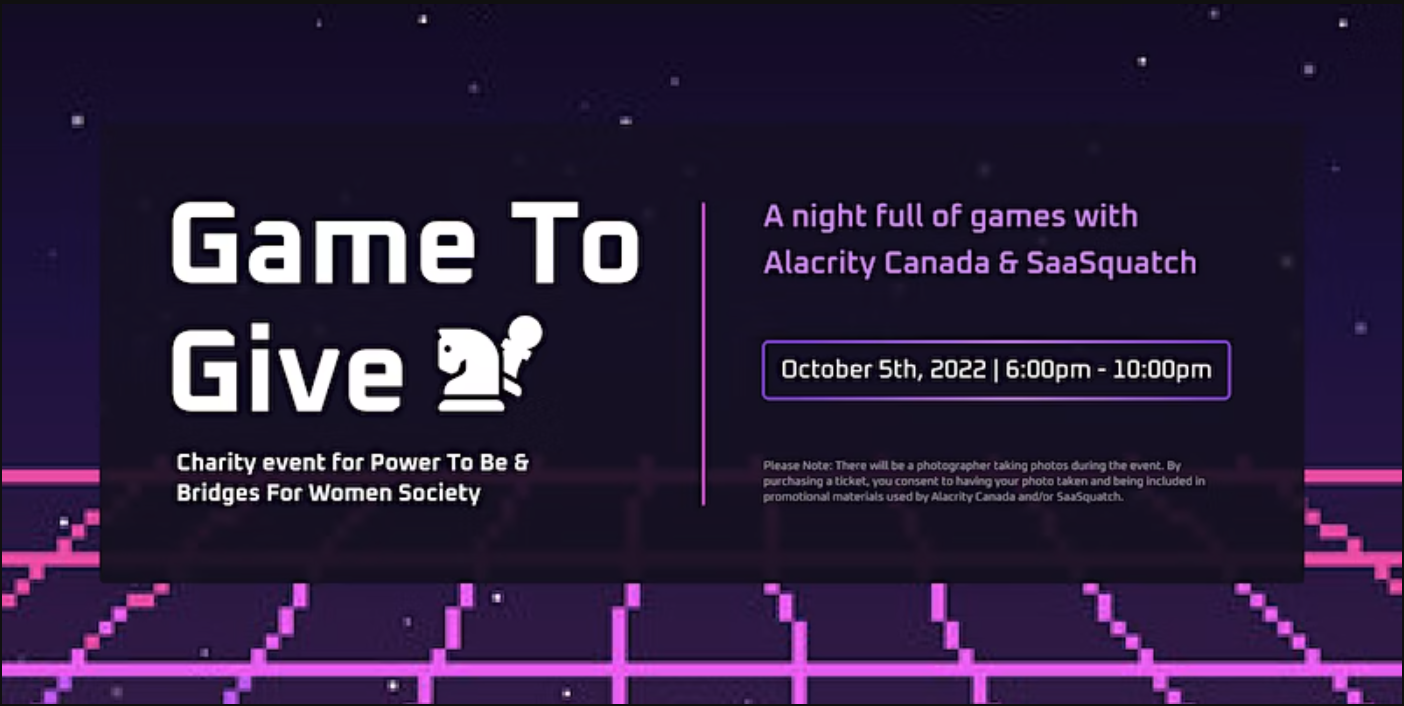 Game To Give is an evening charity event co-hosted by Alacrity Canada and SaaSquatch. Game To Give is all about bringing community together and celebrating through silly games, lively music, and great food and drinks. Game To Give is a charity event and this year we will be contributing to Power To Be and Bridges For Women Society.
Pricing
Tickets for this event include drinks, snacks, and participation in all games and entertainment (except the Super Smash Bros. which costs an additional $25 to enter).

Single tickets: $75
Three tickets: $200
Five tickets: $300

*Note that if you purchase a bundle of three or five tickets, your company logo will be included on signage on the night and promotion on social media as a Supporting Company.
Wednesday, October 5, 2022 (6:00 PM - 10:00 PM) (PDT)
Game To Give is an evening event, which runs from 6:00 - 10:00pm.
Categories
Community Events