OWASP Victoria | Spring 2023 In-Person Live AppSec MeetUp
OWASP Victoria | Spring 2023 In-Person Live AppSec MeetUp
Thursday, May 11, 2023 (6:30 PM - 9:00 PM) (PDT)
Description
The OWASP Victoria Chapter is pleased to present our Spring 2023 Application Security MeetUp, an In-Person Live Presentation Event on May 11!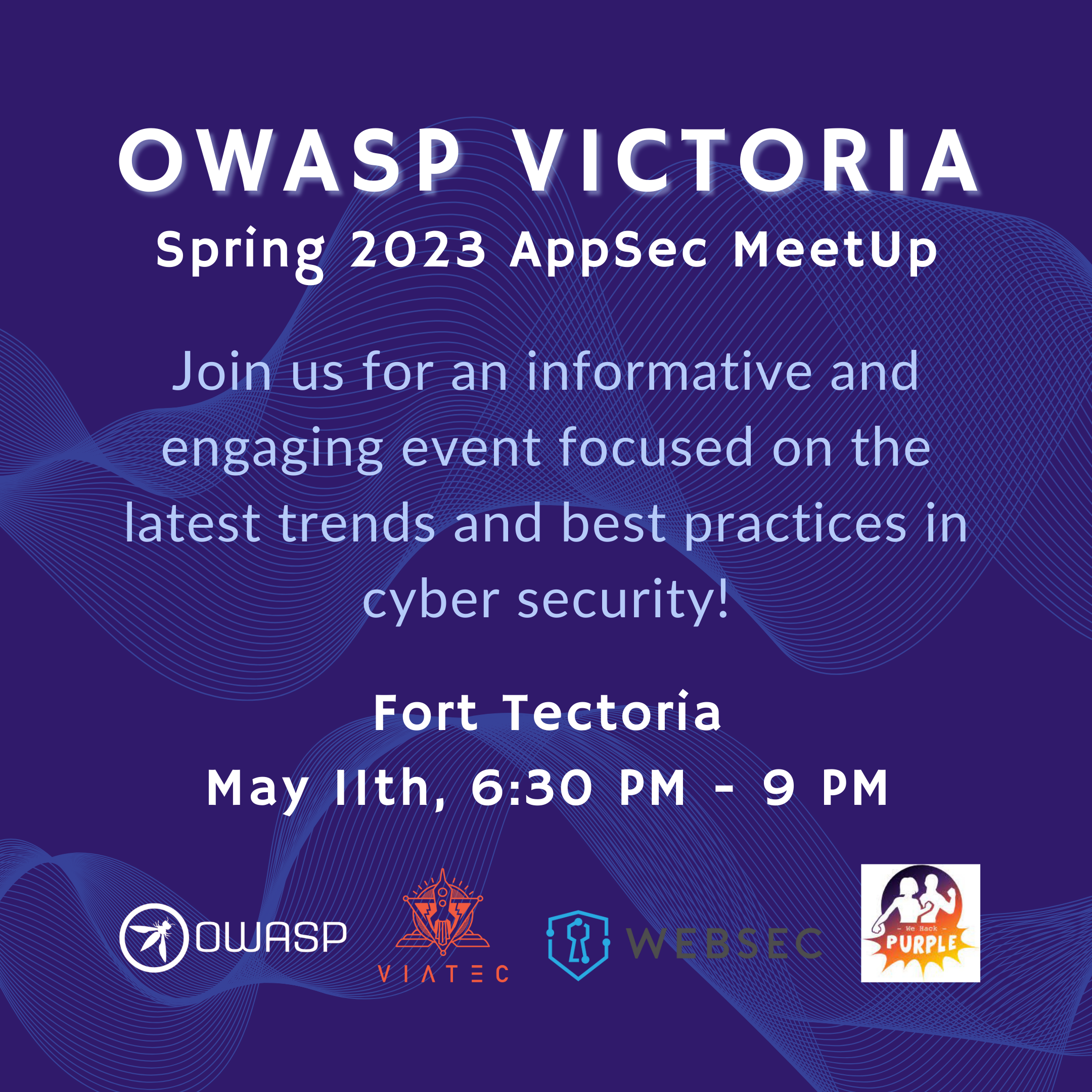 Join us for an informative and engaging event focused on the latest trends and best practices in cyber security. We are excited to announce Tanya Janca and Roberto Salgado will be delivering great content.
---
Tanya Janca, also known as SheHacksPurple, is the best-selling author of 'Alice and Bob Learn Application Security'. She is also the founder of We Hack Purple, an online learning academy, community, and podcast that revolves around teaching everyone to create secure software. Tanya has been coding and working in IT for over twenty five years and has been everywhere from startups to public service to tech giants (Microsoft, Adobe, & Nokia). She has worn many hats; startup founder, pentester, CISO, AppSec Engineer, and software developer. She is an award-winning public speaker, active blogger, and streamer and has delivered countless talks and training sessions across 6 continents. She values diversity, inclusion, and kindness, which shines through in her countless initiatives.
Roberto Salgado (CEO and Co-Founder of Websec Canada / Co-Leader of OWASP Victoria Chapter) has presented his research at the prestigious security conferences such as Black Hat, DerbyCon, BSides, and more in the world and possesses a wide range of skills and expertise in the field of Information Security. Roberto has participated and contributed to great projects such as Modsecurity, PHPIDS, SQLMap, and the Web Application Obfuscation book. Roberto also maintains the SQL Injection Knowledge Base, an invaluable resource for penetration testers when dealing with SQL Injections.
Tanya will present Pushing Left to Secure Software and Roberto will present a Summary of Cyber Security in 2022. Whether you're a seasoned security professional or just getting started in the field, you'll leave with valuable insights, actionable takeaways to improve your organisation's security posture, and a chance to win swag/prizes!
In addition to the presentations, there will be ample opportunities for networking and collaboration with like-minded professionals. You'll have the chance to connect with peers, learn from industry leaders, and exchange ideas about the latest tools and techniques for staying ahead of the ever-evolving cybersecurity landscape.
Don't miss out on this valuable opportunity to enhance your knowledge and skills in cyber security. If you would like to participate, please click the RSVP button to reserve your spot, as we have limited seats available.
RSVP here: https://www.meetup.com/owasp-victoria-chapter/events/292413504/
Fort Tectoria
777 Fort Street



Victoria

,

BC

V8W 1G9

Canada



Thursday, May 11, 2023 (6:30 PM - 9:00 PM) (PDT)
Categories
Tech Events
Community Events
Educational/Training
Events have proven to be an amazing tool for VIATEC to serve our members and they often achieve multiple goals at once. They provide a dynamic vehicle to recognize our leaders as examples, to learn from each other and experts, to celebrate wins and failures.
This event calendar contains not only VIATEC organized events, but events from the local tech sector and community! Scroll, read and register!
Click the "+" icon to post an event to our calendar!*
*Subject to approval by VIATEC. Events must be a minimum of 3 weeks out or they may not be approved. Please include bullets for "What you'll learn" or "What will be discussed".
Questions? Contact tectoria@viatec.ca
[Full Event Calendar]  [VIATEC Events]  [Tech Events]  [Community Events]