Better at Being Better: Becoming a B Corp is good for business
Better at Being Better: Becoming a B Corp is good for business
In 1970, American economist Milton Friedman famously declared that a corporation's greatest social responsibility was to its shareholders and generating the most profit possible for them. This theory, known as the Friedman Doctrine, became the norm for capitalism as we know it today, relegating most social and environmental concerns to the purview of government, non-profits and charities.
Stakeholders, not Shareholders
Now, in a time of climate crisis, income inequality and pandemic recovery, a growing movement is doing business differently. Companies are embedding social responsibility and justice into the fabric of their business, creating a new capitalism culture centred on stakeholders — including our planet and the people who share it.
"The B Corp movement is, in large part, a direct response to the toxic workplace cultures, poor environmental standards, and profit-centred mindsets that have long dominated the corporate world," says Christopher Marquis, professor at Cambridge University and author of Better Business: How the B Corp Movement is Remaking Capitalism. "People are realizing that, actually, business can play a role in helping resolve and address some of these issues."
"To me, it felt like a way better way to do business," says Tessa McLoughlin, the founder and director of KWENCH, which became a B Corp last year. "Your main priority isn't shareholders; your main priority is society, Mother Earth and the way we govern things within the company."
B Corp certification is a measurement of business performance, accountability and transparency issued by B Lab. The certification procedure requires companies to complete a meticulous accreditation process that covers five core areas: community, workers, governance, customers and environment.
"When I started my company back in 2014, I used the B Corp framework as a way to create policies," says Melodie Reynolds, CEO of Elate Cosmetics and Eluma Beauty. She and her team went on to get the company certified in 2020. "Being a B Corp keeps us accountable for the things that we were already doing. It also feels to me like leaving a legacy. No matter who runs my company in the future, our articles boldly proclaim that we have the values of a B Corp."
What it Takes to Become a B Corp
Accreditation begins with completion of the B Impact Assessment, an online tool that any business can work through for free to assess where they stand currently and what areas they need to improve on to consider pursuing accreditation. Companies must reach a minimum verified score of 80 to begin the certification process, with the total available depending on their business sector. This can provide insight into areas of strength and opportunities to make changes to increase their score. Once certified, companies must be recertified every three years to reassess and measure where they're at and to ensure they're continuing to walk the walk.
As CIO and founder of Business 4 Social Good, Deb Alcadinho trains and consults with female entrepreneurs seeking to build and refine the social impact of their companies. "The whole process of the assessment, through the questioning, and the scoring, is really designed to be educational for the business owner, to improve on their impact to make their business better," she says.
In 2021, Marquis virtually hosted B Lab co-founder Bart Houlahan in one of his classes. "When COVID hit, they immediately started thinking of ways of saving money and scaling back the business," Marquis says. "But they actually found the opposite … a lot of things happening during this time really highlighted many injustices in our working world."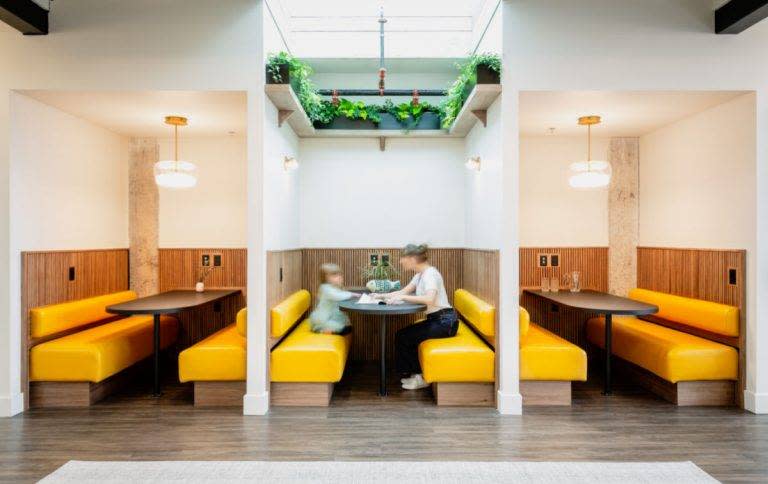 KWENCH. Photo by James Jones.
B Corp certification applications have soared. Starting with only 82 accredited companies when it began in 2007, B Lab has now certified over 6,000 B Corp companies around the world. This includes several Vancouver Island businesses such as Coast Capital Savings, Abeego, Fatso, DeeBee's Organics, Synergy Enterprises, Animikii Indigenous Innovation and more.
McLoughlin passionately encourages other companies to join her and Reynolds on the B Corp path. "Do it. I think it's an absolute necessity. If you want to be a business owner in this day and age, you should be a B Corp."
5 Benefits of Becoming a B Corp
By Deb Alcadinho – CIO, Business 4 Social Good
Better your business by making it a force for good and ensuring it aligns with your values.

Attract and retain top talent with employees whose values align with the company.
Build customer loyalty by attracting customers who align with the purpose and the mission of your business.
Differentiate your business from others in your industry to stand out.
Join a community as part of a global movement of people, sharing ideas, collaborating, learning and growing.
Erin Skillen is the founder of content4good, where she collaborates with businesses and organizations to foster employee engagement and well-being, diversity, equity and inclusion, and empathic leadership.
Additional Info
Media Contact : Douglas Magazine
Source : https://www.douglasmagazine.com/better-at-being-better-becoming-a-b-corp-is-good-for-business/