Government of Canada Invests in Remote Monitoring Technology from Barnacle Systems
Government of Canada Invests in Remote Monitoring Technology from Barnacle Systems
The Canadian Coast Guard is taking action to address abandoned, wrecked or hazardous vessels that can threaten marine environments, local communities and economies
OTTAWA, ON, June 29, 2023 - Canadians expect clean and safe waterways, and efficient response to marine hazards is a priority for the Government of Canada. Abandoned, wrecked or hazardous vessels can threaten marine environments, local communities and economies. The Canadian Coast Guard is taking action to address these vessels across the country through innovative technology.
Today, the Minister of Fisheries, Oceans and the Canadian Coast Guard, the Honourable Joyce Murray, announced that the Canadian Coast Guard has purchased BRNKL Rapid Deploy units from Barnacle Systems Inc. Through a partnership with Innovative Solutions Canada, 39 of these remote monitoring devices are being installed on hazardous vessels across the country.
These made-in-Canada devices are placed on board a problem vessel and allow the Canadian Coast Guard to monitor a vessel from afar and be notified if it begins to sink, if it is impacted by weather conditions, and more. The device offers the Canadian Coast Guard near real-time status updates and alerts, allowing for faster deployment of marine environmental and hazard response teams to high-priority areas.
Over 2,000 wrecked, abandoned or hazardous vessels have been reported across Canada to date. Through the Oceans Protection Plan, the Government of Canada established a national strategy to address these vessels and prevent the occurrence of new ones. Since 2016, almost 500 projects to remove and dispose of abandoned boats across Canada have been funded through the Plan.
Quotes
"The Government of Canada is taking action to eliminate abandoned vessels from our waters. By investing in new technologies, we enhance the Canadian Coast Guard's capacity to monitor, manage, and address marine risks, leading to greater protection of waterways today and for the future."
- The Honourable Joyce Murray, Minister of Fisheries, Oceans and the Canadian Coast Guard
Quick facts
- The Canadian Coast Guard has acquired 39 BRNKL Rapid Deploy units at a total cost of $513K from Barnacle Systems Inc. through Innovative Solutions Canada. The devices have been distributed to Canadian Coast Guard teams across Canada.
- Each BRNKL Rapid Deploy unit costs $11.7K and includes cellular and satellite service plan for one year as well as float switches and solar panels. Remote training and support/analysis will also be provided by Barnacle Systems.
- The units weigh approximately 35 lbs and are the approximate size of an airplane carry-on luggage (Dimensions: 559 x 356 x 229 mm (22 x 14 x 9 in). Their capabilities include:
- Global Navigational Satellite Services, Accelerometer/gyroscope – used for monitoring the list (heel), pitch, and any sudden impacts; used to determine if a vessel is beginning to sink, if it's suffering impacts during a storm, or if it's suffering impacts from bouncing off the sea floor.
- Float switches – used to detect if water is present in a particular area.
- Camera – used when the system is in cellular reception to capture photographs of the surrounding environment, intruders, or areas of the vessel.
- Door sensor – used to detect intruders. Can be used to trigger photographs if a camera is connected.
- Satellite antenna – used when the system has variable cellular connectivity. The satellite antenna allows for automatic fail-over when cellular becomes unavailable.
- Under the Oceans Protection Plan, the Government of Canada has made it illegal to abandon a boat in Canada's waters.
- The Wrecked, Abandoned or Hazardous Vessels Act became law in 2019 and helps protect the environment while reducing the burden on taxpayers. The Act strengthens owner responsibility and liability for vessels; makes it illegal to abandon a boat; and gives the federal government more powers to take action against problem vessels before they can pose even greater problems at greater costs.
Associated links
- Wrecked, abandoned or hazardous vessels
- BRNKL Rapid Deploy - BRNKL by Barnacle Systems
Contacts
Matthew Dillon
Director of Communications
Office of the Minister of Fisheries, Oceans and the Canadian Coast Guard
613-992-3474
Media Relations
Fisheries and Oceans Canada
613-990-7537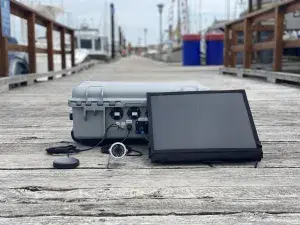 Images
Additional Info
Media Contact : Emily Griffis - egriffis@brnkl.io
Source : Government of Canada