Hardhat Wearables launches Localized Collaboration for Safer Remote Worksites at Enterprise Connect
Hardhat Wearables launches Localized Collaboration for Safer Remote Worksites at Enterprise Connect
March 23, 2017
Victoria, BC, Canada - Hardhat Wearables (https://hardhatwearables.com) a division of Priologic Software Inc. (https://priologic.com) is launching a localized collaboration platform for teams working on remote logging, oil and gas, construction and utilities worksites often with little or no Internet connectivity.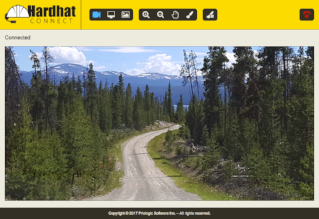 The Hardhat Connect system consists of a local ruggedized collaboration server that is mounted in the crew truck or portable trailer or forests. Hardhat Connect delivers audio, video, screen sharing and telestration between team members wearing Head Mounted devices like Realwear's HMT-1 (Head Mounted Tablet), Fujitsu's Head Mounted Display, or carrying most recent Android devices, PC or Mac computers. Ruggedized Android-based phones and tablets are becoming widely available. The CAT S60 ruggedized phone and Sonim intrinsically safe phone are both widely used in the industry now.
Priologic teamed with Iotatel Inc. who produce a wifi system that delivers high speed connectivity in the dense coastal rainforests of British Columbia. Doug Pelton, CEO of Priologic says, 'The Iotatel team was referred to us by FPInnovations.ca to deliver localized internet in the forests of British Columbia. By leveraging Iotatel's system and our Hardhat Connect product, teams can stay connected while working in rugged and dangerous conditions. Getting a system to penetrate dense foliage is challenging, so we don't have too many competitors in this space.' 'With Hardhat Connect we hope to make safer working conditions by providing better communications between workers in these remote and dangerous sites. By far the largest number of accidents happen during the first year of work, so excellent communication between a new worker and a supervisor or safety officer is critical,' says Pelton.
See Priologic's Hardhat Wearables team at Enterprise Connect in booth 2401 from March 27-30 at Gaylord Palms, Orlando, Florida.
Press Release available here: Hardhat Wearables Press release March 23, 2017
Media Contacts:
Doug Pelton, Priologic Software Inc.
doug@priologic.com
250-480-9116
Erika Ladouceur, Priologic Software Inc.
erika@priologic.com
250-483-2611