LlamaZOO Launches ClarityDT Beta Program, A Real-Time Data Integrated Digital Twin Solution, Accessible on Apple Vision Pro
LlamaZOO Launches ClarityDT Beta Program, A Real-Time Data Integrated Digital Twin Solution, Accessible on Apple Vision Pro
Nvidia and Apple technologies enable LlamaZOO technology partners like Acuity Brands to visualize, manage and collaborate using their data like never before
VICTORIA, BC, June 20, 2023 /CNW/ - LlamaZOO, a spatial business intelligence provider, today announced the beta release of its digital twin editing software, Clarity Digital Twin (ClarityDT), which creates immersive, real-time replicas of physical assets. The software utilizes advanced computing technologies from Nvidia and can be experienced on desktops, tablets, VR headsets, and soon, Apple Vision Pro. By analyzing data from various sources, including satellite imaging and physical mapping, organizations can create 3D replicas of assets like manufacturing facilities, entire geographies, mines, and much more, to streamline operations. The ClarityDT beta program allows users to start working within their digital twin using mixed reality in a matter of days. Industrial technology company Acuity Brands is already leveraging the software to further enhance its Atrius portfolio of cloud applications for intelligent spaces. Industrial enterprises can register for the ClarityDT beta program now to be one of the first to explore their data on Apple's new spatial computer.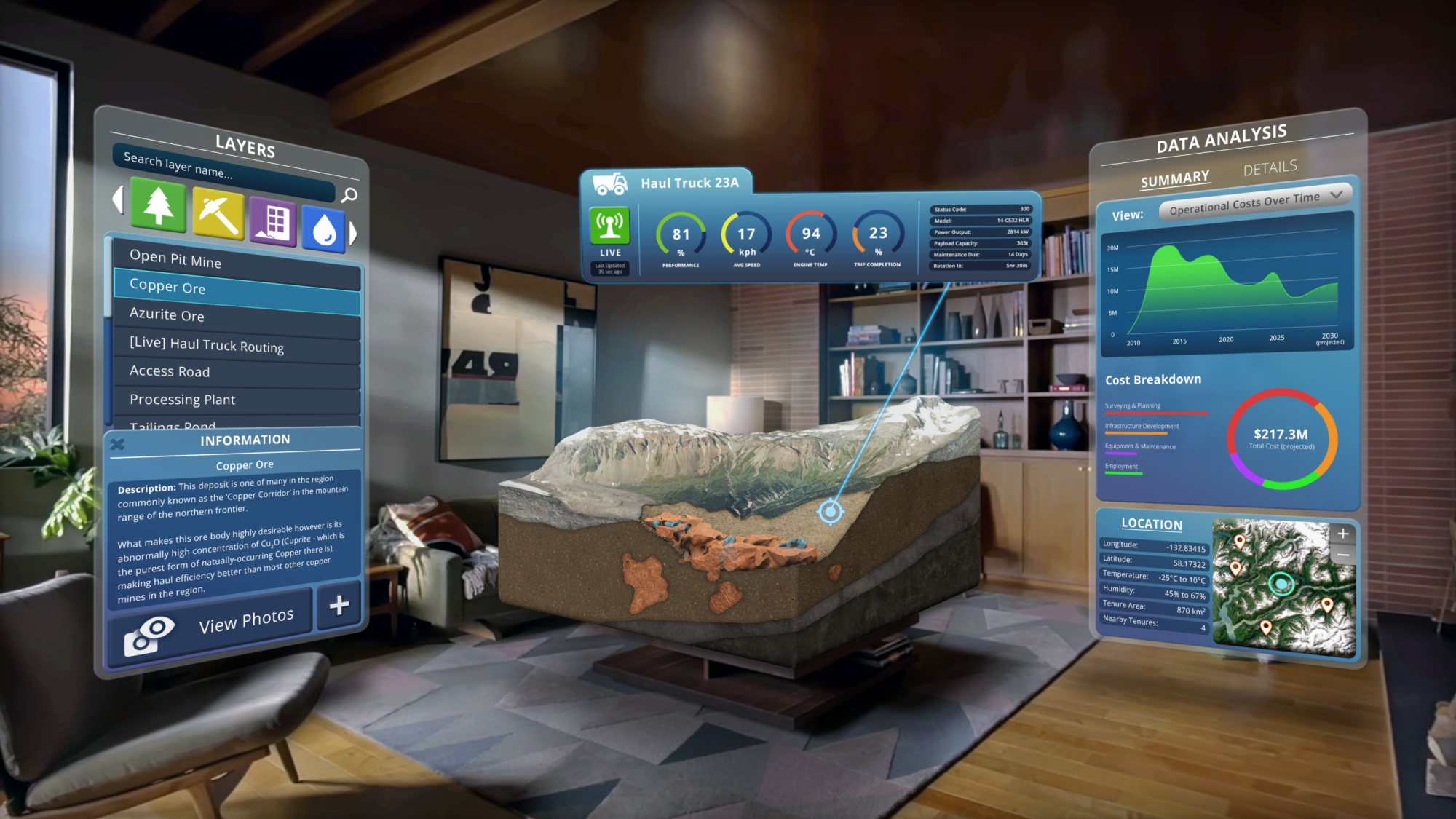 A mining client running their data on LlamaZOO's spatial platform ClarityDT, will be able to easily and intuitively visualize on the Apple Vision Pro. (CNW Group/LlamaZOO Interactive Inc.)
"Pairing LlamaZOO's new ClarityDT technology with Nvidia and the Apple Vision Pro headset creates an incredibly powerful visualization tool that transcends language and simplifies subject matter and domain specific knowledge - its impact is beyond compare," said Charles Lavigne, CEO of LlamaZOO. "Integrating this spatial technology breaks down barriers, accelerating business decisions by providing real-time shared experiences and understanding of data."
Traditional pen-and-paper methods dominate around 70% of industrial processes, leading to errors, misinterpretation, and inefficiencies. Moreover, conventional data analysis tools often struggle to handle spatial data, hindering effective decision-making. By harnessing ClarityDT, businesses and industries can now revolutionize their data visualization, management, and collaboration. For example:


Intelligent spaces. ClarityDT provides a data visualization layer. The software can be used by industrial technology companies like Acuity Brands to unlock operational efficiencies for its customers. Acuity Brands is connecting Atrius® DataLab, the company's open data platform that enables building management at scale, with ClarityDT to deliver applications that improve location awareness and provide building insights monitoring. These best in class applications, built on top of a single platform, give customers better access to their data while helping them optimize how their buildings perform.


"For the last year and a half we've been working with LlamaZOO to explore how Atrius® DataLab could be extended and visualized as a 3D spatial digital twin," said Sandeep Modhvadia, Vice President of Product Management, Atrius, Acuity Brands. "The ClarityDT beta technology is a great opportunity to see this extension come to life. We are excited to continue our technology partnership with LlamaZOO so that we can offer solutions to the market that take advantage of this impressive technology."
Ecological disaster management. Forest fires and flooding incidents are increasing around the world. ClarityDT can visualize digital twins of high-risk areas with integrated real-time data to support mitigation and prevention efforts. Governments and other sectors can leverage the software in real-time to better understand the extent of damage, anticipate future risks, and develop prevention plans and solutions.


Streamlining production lines in manufacturing. ClarityDT can create a digital twin of a physical production facility, merging real-time data collection and physics-based simulations for faster problem detection and improved business intelligence. A collaboration between LlamaZOO and Latecoere Aerostructures Canada digitized industrial production lines for aircraft parts, driving digital tools for spatial planning and asset tracking.


Land & project planning. ClarityDT provides the common framework for immersive collaboration between stakeholders across geographies. The use of an up-to-date digital twin in land and project planning saves time by reducing site visits, facilitates informed decision making, and creates efficiencies not possible with traditional methods.


Indigenous land & tenure management. ClarityDT accelerates progress already made in land use strategy and planning between Indigenous communities and industry. Using their digital twin, Indigenous communities can better visualize and immerse themselves in their land to collaborate and facilitate land use consultation processes through interactive engagement.
Applications to participate in the ClarityDT beta program are now open for early access to industrial and land based resource operators who want to experience the innovative features and capabilities of the platform. The ClarityDT platform will be available globally in the first half of 2024, coinciding with the release of the Apple Vision Pro headset. To learn more and register for the program, visit
https://llamazoo.com/clarity-dt/
Quotes
Christoph Schilling, Manager of Business Development & Forestry, FPInnovations -
"FPInnovations has partnered with LlamaZOO on a number of projects in the past years, with various use cases in the forest sector, working with industry and Indigenous communities. We see great potential and applications in using digital twinning and spatial visualization in supporting the forest sector in land use planning, resource management, and community engagement. Further enhancing the visual experience through ClarityDT and Apple Vision Pro will strengthen these use cases."
Laura Petrescue, Director, Engineering & Quality, Latecoere Aerostructures Canada (formerly Avcorp) -
"As part of our collaboration in the Learning Factory Digital Twin Supercluster project, we've seen considerable advances in LlamaZOO's ClarityDT solution and experienced its growth in a variety of use-cases. We look forward to our continued dive into the world of digitalization with LlamaZOO, and their ClarityDT product, and are excited to see our facility digital twin on the Apple Vision Pro."
About LlamaZOO
LlamaZOO is an industry leader in spatial data and digital twin solutions. The ClarityDT platform empowers industries by providing them with the tools to handle complex and disparate data, enabling them to gain valuable insights and make better informed decisions. LlamaZOO's solutions have earned the trust of major companies around the world, including those in mining, energy, manufacturing, and property development. Visit: www.LlamaZOO.com
Media Contacts:
LlamaZOO Media Contacts:
Maddie Davidson
604-358-0011
maddie@the-tea.co
Larissa Dundon
604-649-5506
larissa@the-tea.co
Acuity Brands Media Contact:
Katherine Verducci
408-429-5779
kverducci@1903pr.com
Additional Info
Media Contact : Maddie Davidson
Source : https://finance.yahoo.com/news/llamazoo-launches-claritydt-beta-program-100000124.html?guccounter=1