The Drum Organ (featuring Limbic Media) Wins 2019 IES Lighting Control Innovation Award
The Drum Organ (featuring Limbic Media) Wins 2019 IES Lighting Control Innovation Award
The lighting system was powered by a Mosaic/Pharos controller by ETC, with an Aurora audio-light processor by Limbic Media, and a Q-SYS Core audio player from QSC.
The Lighting Control Innovation Award was created in 2011 as part of the Illuminating Engineering Society's Illumination Awards program, which recognizes professionalism, ingenuity and originality in lighting design. LCA is proud to sponsor the Lighting Control Innovation Award, which recognizes projects that exemplify the effective use of lighting controls in nonresidential applications.
This month, we will explore an innovative installation of lighting and controls at a public plaza in Milwaukee, WI, undertaken on behalf of Milwaukee World Festivals, Inc. Design by Creative Lighting Design & Engineering, LLC. The lighting system was powered by a Mosaic/Pharos controller by ETC, with an Aurora audio-light processor by Limbic Media, and a Q-SYS Core audio player from QSC.
The new entrance plaza at the world's largest music festival needed an extraordinary year- round feature that spoke of the excitement within. The Lighting Designers were tasked with developing a music- based interactive feature that would be easily constructed, on a tight budget, and vandal resistant; letting visitors be "in the band." Numerous ideas resolved into the Drum Organ.
The concept evolved from the universal appeal of drums, with the standing pipes offering visibility over a crowd. The organ-like sculpture included four keyboards where players can activate musical notes and dynamic colorful lighting responses. The pipe's perforations were boldly illuminated by narrow-beam 33w RGBW spots hidden
below, intensified by reflective caps. 50w RGBW floods behind the speakers wash the pipe exteriors with complimentary color, while trim lines and an uplit center dome give the sculpture a futuristic vibe. The keyboard buttons brighten to provide a strong visual accompaniment for players, from stock 25w RGB dome fixtures.
The Lighting Designers had to develop the mechanical button design. After testing numerous technologies, these fixtures were designed into an electro-mechanical button using durable pressure sensors. The custom touch-sensitive mounting maintained durability, warranty and code requirements.
The Designers also integrated a custom audio- to- light processor, providing a very organic kinetic visual response. They collaborated with Systems Integrator to develop coding and programming for the lighting interactivity, and Audio Integrator to develop audio systems. Eighty curated notes shift among the keyboards in Jazz, Rock Band,
Wind Chime and Percussion styles.
Under the Designer's direction, the design and its construction were coordinated between all contractors, with assemblies built off- site to make the tight 4- week install schedule, and on budget.
People join together in delight, creating rich musical percussive notes in a shower of lighting colors and intricate harmonious movements. Their music and smiles have brought the plaza to life.
The "Drum Organ" is a one-of-a kind, interactive installation that combines art with sound and lighting technology to energize this music festival entrance.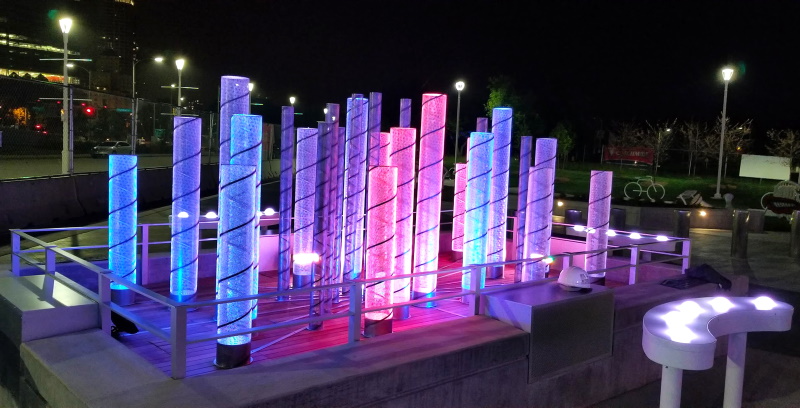 A cluster of futuristic organ-like pipes emit sound and light when visitors play on four keyboards that surround the sculpture.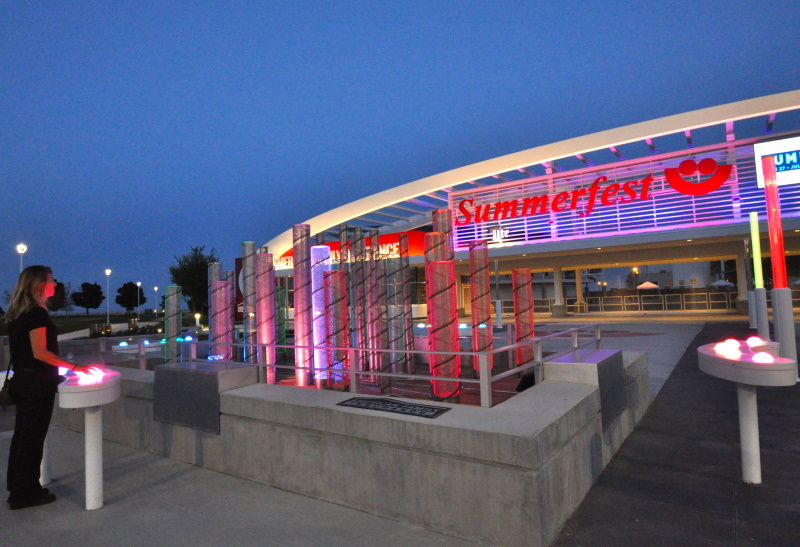 When unoccupied, the sculpture plays prerecorded music with subtle animated lighting to beckon visitors. Periodically, "Improv Mode" allows visitors to play along with canned music.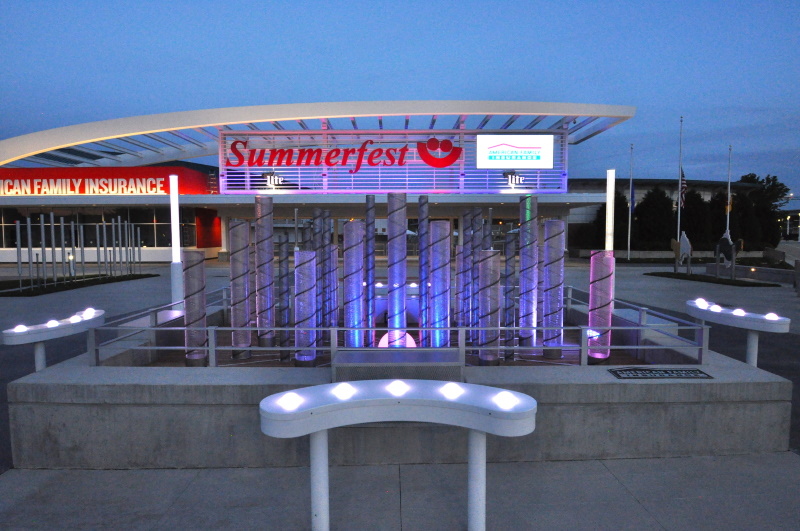 After much experimentation, two redundant low-tech industrial pressure switches were used for touch sensing, keeping fixture warranty and code compliance, shown here in early prototype.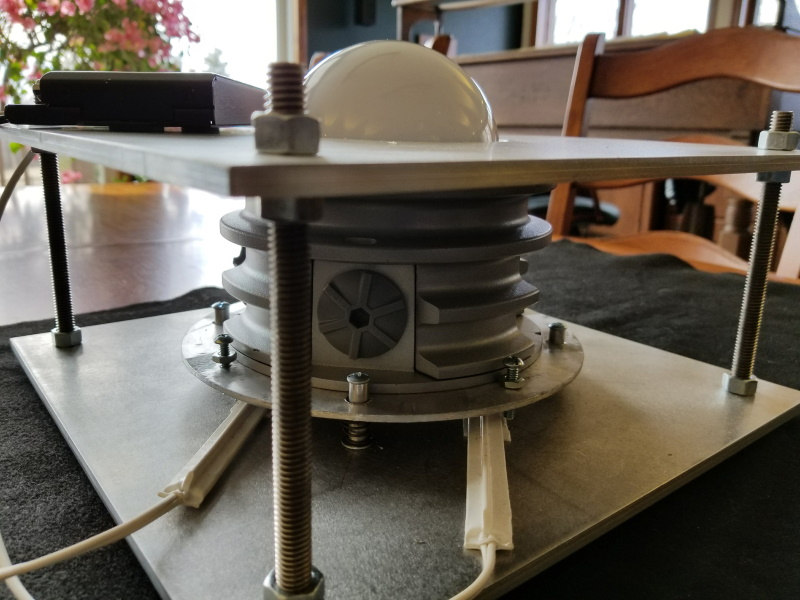 Each keyboard has five illuminating touch-sensitive buttons, which will play alternating musical sounds from Jazz, Rock Band, Wind Chime and Percussion palettes.
Every few minutes, the note palettes will shift to a different keyboard, allowing visitors to play eighty different curated sounds.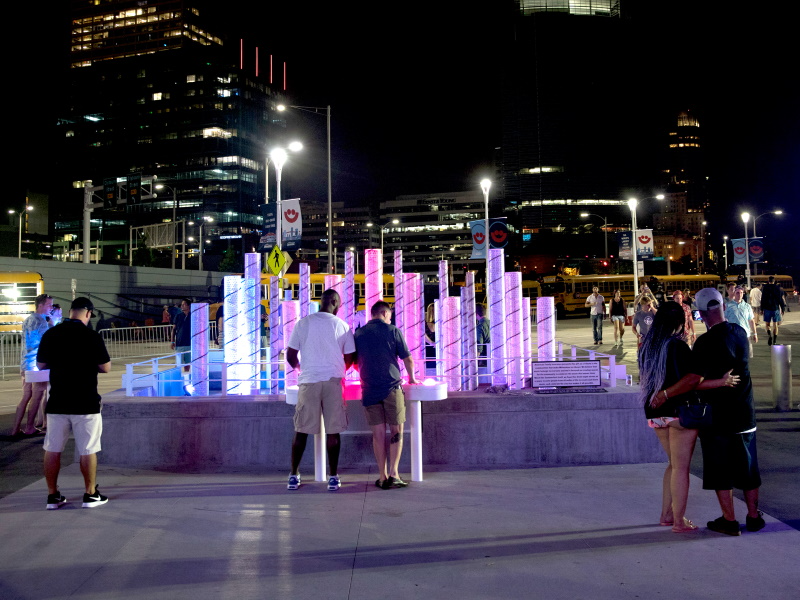 Groups can collaborate as a band. Their music comes alive in a shower of beautiful lighting colors and intricate harmonious movements.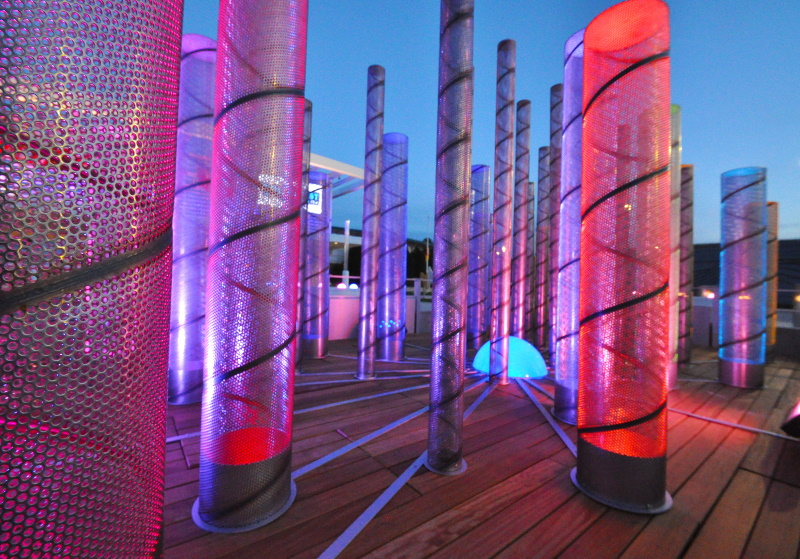 Additional Info
Media Contact : Limbic Media
Source : https://lightingcontrolsassociation.org/2019/10/21/the-drum-organ-wins-2019-ies-lighting-control-innovation-award/