The top 5 ways hiring a UVic co-op student can boost your business
The top 5 ways hiring a UVic co-op student can boost your business
Nothing is ever certain in business, but these days adaptability and flexibility are more important than ever. Your business's needs are changing—so should your hiring strategy.
Nothing is ever certain in business, but these days adaptability and flexibility are more important than ever. Your business's needs are changing—so should your hiring strategy. Bringing co-op students onto your team can help you weather economic uncertainty and set up your business to thrive. Here are 5 reasons to join 1,500 employers across the province and hire a UVic co-op student.
1. Connect to great minds with new ideas
Co-operative education—or co-op—means students alternate classroom study with hands-on work experience related to what they learn in class. This lets you connect with the latest knowledge in everything from commerce to engineering. Students gain valuable career experience, while you recruit innovative and enthusiastic talent. With students from more than 225 academic departments and schools participating in UVic co-op, you'll connect with the best fit for your team.
2. Access flexible hiring for your needs
In turbulent economic times, it can be hard to predict what the future holds for your business. Co-op students can fill existing gaps on your team, provide relief during peak periods, or take on specific, set-term projects and events. Here are some examples of projects that co-op students have taken on during recent work terms:
Launching a company's TikTok channel

Reporting on sustainability initiatives
Developing courses and training for staff
Planning stakeholder events
When you have a project that needs creativity and fresh ideas, we'll do the work connecting you with the talent that can take your business to the next level.
You can hire for 4-month work terms starting in January, May and September, or choose to hire co-op students for several work terms in a row. We can help you post your job descriptions and facilitate the hiring process.
---
Your business's needs are changing in an evolving world. As Canada's best university to study climate, UVic co-op students bring up-to-date climate knowledge and cutting-edge skillsets to help you adapt for a sustainable future. Whether it's managing marketing campaigns for local businesses, creating organic products or facilitating lunch-and-learn events for colleagues, co-op students bring forward-thinking perspectives on climate to every facet of their work.
---
3. Hire Canada's most career-ready graduates
Thanks to the co-op program, UVic is Canada's top university for preparing career-ready grads. With 70% of UVic students participating in co-op, we've placed over 100,000 students in work terms since the program first launched in 1976.
All co-op students are trained to be prepared for the workplace as part of their co-op program.
By the time a co-op student arrives for their first day of work, they've already built exceptional skills and are ready to put their ideas into action.
4. Mentor tomorrow's changemakers
When you hire a UVic co-op student, you're training the next generation of industry talent. Your mentorship cultivates students' interest in your company and industry, and makes a tremendous difference in what they choose as careers. Up to 20% of UVic co-op students find work with their co-op employers after graduation. 83% of graduating UVic students find career-oriented employment in their field—and co-op is the best tool to hire and retain exceptional early-career talent.
For Muskan Hans, an award-winning computer science student from India, a co-op work term with the BC Pension Corporation turned into a full-time, permanent position when she completed her studies. Originally hired in quality assurance, Muskan's diligence and eagerness to learn led to her taking on more responsibility and eventually accepting a full-time job with the organization.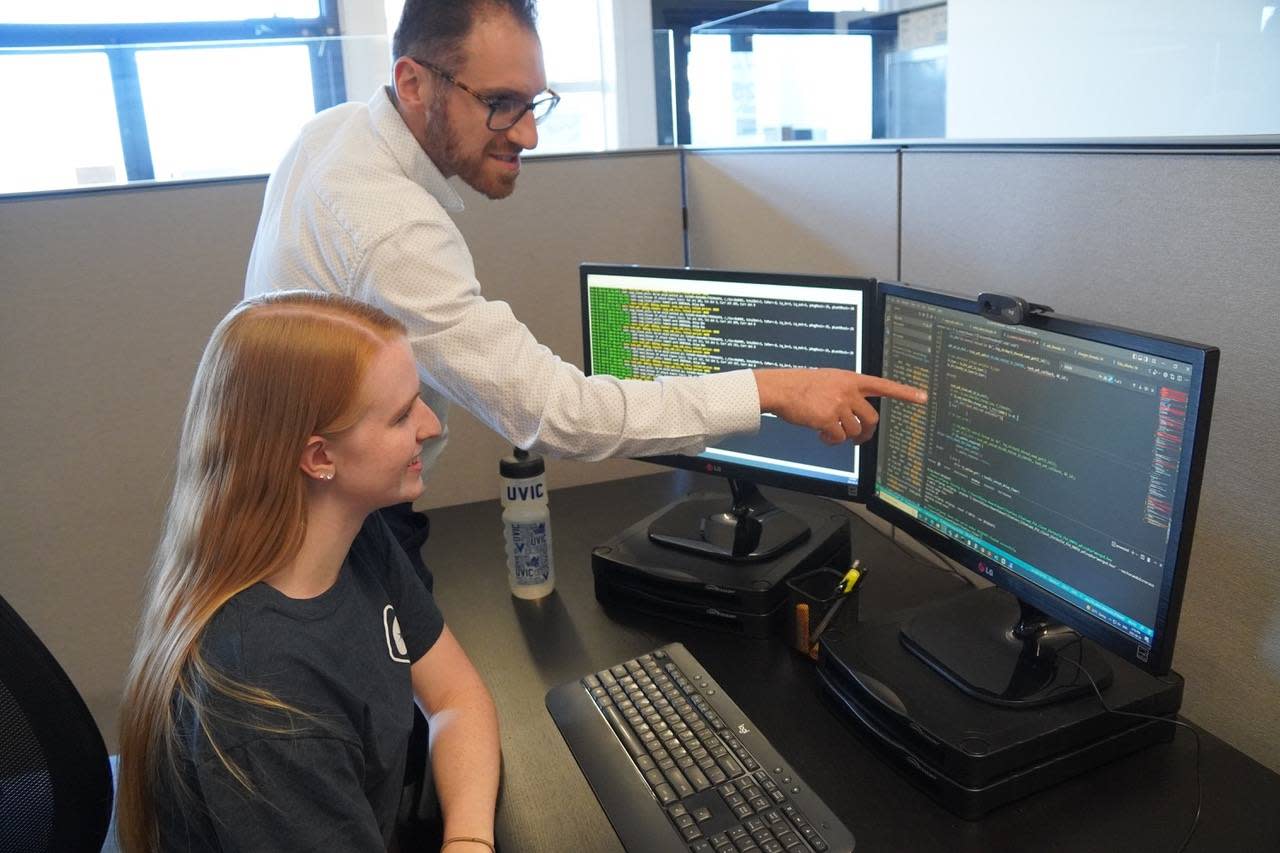 During Alyssa Howard's work term with Carmanah Technologies, she contributed firmware to new, solar-powered pedestrian safety products, a project that took her knowledge from computer science classes into physical products and local communities.
"My supervisor's suggestions improved my coding style," says Alyssa. "I was able to grow my knowledge with the support of my supervisor and the company, to help create energy-efficient products that save lives and better communities every day." With mentorship from her supervisor and learning opportunities that only real-life work experience can offer, Alyssa contributed to several Carmanah products over the course of her co-op work term.
5. Access hiring support
You may be eligible for funding when you hire a co-op student—there are tons of opportunities to help you become a partner in education. Our online tool makes it easy to find funding opportunities.
You can also connect with UVic co-op coordinators to discuss your particular needs, learn how to best support students in the workplace and more.
HIRE A STUDENT TODAY
When you hire UVic co-op students, both students and your business benefit.
Our staff are there to support you every step of the way.
Learn more about the hiring process and post your position.
Questions? Contact employer@uvic.ca.
Additional Info
Media Contact : Douglas Magazine
Source : https://www.douglasmagazine.com/the-top-5-ways-hiring-a-uvic-co-op-student-can-boost-your-business/