The Virtual Waiting Room: Multi-billion dollar industry Telehealth is here to stay
The Virtual Waiting Room: Multi-billion dollar industry Telehealth is here to stay
The pandemic didn't create telemedicine, but it accelerated virtual health care dramatically by breaking down barriers to accessibility.
By 2020, according to the provincial Ministry of Health, virtual care services in B.C. had reached 684,059 "visits." This number jumped to 13,946,806 by 2021 when COVID-19 was raging — a 1,900 per cent increase from pre-pandemic times. By comparison, there were 5,735,883 in-person visits that same year.
Telemedicine broadly refers to any type of health care delivered virtually, whether it's through video, phone call or text. The industry can be further broken down between public-sector platforms, which connect patients to their family physicians, and private-sector platforms, which connect patients to a qualified but random practitioner or private clinic for a one-time or annual fee.
Whether non-profit or for-profit, telemedicine offers such benefits as:
Comfort and Convenience — With telemedicine, patients don't have to drive to the doctor's clinic, park, walk or sit in a waiting room when they're sick. They can see a doctor from the comfort of their own living room. Virtual visits can be easier to fit into a busy schedule. Depending on a patient's schedule, they may not even have to take time from work or arrange for child care.
Control of Infectious Illnesses — To help prevent the spread of COVID-19, flu and other infectious diseases, doctors can use telehealth appointments to pre-screen patients. It also saves sick people from having to come into a clinic. Less exposure to other peoples' germs helps everyone, especially those who are chronically ill, pregnant, elderly or immunocompromised.
Better Assessment — Telemedicine can give some specialty practitioners an advantage because they can see patients at home. For example, allergists may be able to identify clues in a patient's surroundings that cause allergies. Neurologists, and physical therapists can observe and assess a patient's ability to navigate and take care of themselves at home. Telemedicine is also a good way to get mental health counselling, its most popular use.
Family Connections — When consulting with a doctor, it's always good to have a family member who can help provide information, ask questions and take notes of the doctor's answers. If that person lives out of town, or even across the country, telemedicine can loop the family member in on virtual visits.
Primary Care and Chronic Condition Management — Regular visits with primary care practitioners — such as those specializing in family medicine, internal medicine and pediatrics — are essential to a family's health. Telemedicine makes it easier to connect with a doctor or nurse practitioner. Some systems are set up so that new patients can get an appointment with the next available practitioner, which can save time.
This all sounds rosy, but some experts question the ongoing level of demand for these services post-pandemic, and also call for the industry to be more tightly regulated. Doctors aren't universally on board either. Some say telehealth dilutes the in-person relationship between provider and patient. Others say it takes away the "easier" visits like prescription renewals and minor ailments that help defray the costs of lengthier visits and diagnosing more complex issues.
The Facts and Figures
Capterra, a leading software reviewer, recently sought to survey the state of telemedicine in Canada. Of 1,000 respondents, more than half had consulted their doctor using telemedicine. COVID-19 was the main driver of telemedicine use, as 89 per cent of users surveyed turned to virtual health care for the first time during the pandemic. Interestingly, only 13 per cent of those appointments were related to COVID-19 symptoms.
The majority of telemedicine users from the survey had a positive experience, with 84 per cent planning to continue using those services after the pandemic. Three of four wanted to continue using telehealth with even higher frequency, a sign for the future of digital health in Canada.
While two-thirds of virtual health care patients say that their health issue was solved during their consultation, telemedicine isn't without nay-sayers. In fact, 16 per cent of telemedicine users surveyed chose not to continue using it. Most of those cited the lack of physical examinations (40 per cent) and feeling more comfortable seeing doctors in person (51 per cent).
The Business of Telemedicine
Universal health care has been the law of the land in Canada since 1984 and is considered a fundamental right in this country. But instead of having a single national plan, Canada has 13 provincial and territorial health care insurance plans. Under this system, all Canadian residents have reasonable access to hospital and physician services without paying out of pocket.
The system is not without its flaws, however, as anyone who has waited several weeks to see an ophthalmologist or cardiologist can attest. Telemedicine has enabled doctors and patients to connect over everything from prescriptions to mental health to diet. Two distinct business models have developed in response.
The Non-profit Model:
In the early 2000s, Sidney, B.C., had a problem: Many family doctors in Greater Victoria were reaching retirement age, traditional walk-in clinics were shuttering their doors, and younger doctors simply couldn't afford to live here.
It took Karen Morgan, then executive director of the Saanich Peninsula Hospital & Healthcare Foundation, some 12 years to raise funds for two clinics on the peninsula. Shoreline Medical clinic opened the doors of its first clinic in Sidney in 2016. It was a new community-based model using team-based care to ensure that patients receive reliable and timely access to health care. It has proved to be a successful approach for the Saanich Peninsula. Shoreline Medical Brentwood opened in February 2019 with the same model of care, with a team of family physicians and a walk-in clinic.
Shoreline now has 26 family doctors and also operates the only walk-in clinics on the peninsula. "Holistic" is an often overused word, but it applies to Shoreline. Says Dr. Chris Dowler, medical director at Shoreline Sidney: "The team-based model encourages collaboration between doctors, nurses, pharmacists, social workers and dieticians."
But then the pandemic struck, and both clinics were forced to reimagine how to care for patients, especially walk-ins without a family doctor. Enter telemedicine. Rather than abandoning the notion of a physical walk-in clinic, Shoreline created two virtual walk-in clinics.
Dr. Sienna Bourdon is the medical director at Shoreline Medical in Brentwood, which has 13 physicians, a nurse practitioner and a registered nurse. "We were just dabbling in virtual care before the pandemic. Then, within 48 hours, we went 100 per cent virtual. Now we're about 50/50." Dr. Bourdon sees the future of health care in B.C. as "hybrid care" that integrates in-person and virtual visits, with symptoms to be triaged by medical staff.
Virtual and hybrid care may also help attract physicians to Greater Victoria. B.C.'s outdated fee-for-service model, which has not kept pace with the way doctors practise, is a key reason why working in primary care has become less attractive. The new provincial model compensates doctors based on time spent with a patient, the number of patients in a doctor's practice and their medical complexity.
"It's a huge step in the right direction," Dr. Dowler says. "It will help physicians with existing practices justify staying in the profession."
The For-profit Model:
Health care is big business in Canada. According to Statistics Canada, the country's telemedicine market alone was valued at $4.864 billion in 2022 and is estimated to expand at an annual growth rate of 18.2 per cent, reaching $18.532 billion in 2030. Rates of virtual care in Canada rose from 10 per cent in 2019 to 60 per cent of all health care visits in 2020, falling back to 40 per cent in 2021. As more and more private companies are jumping into this market, it begs the question of whether the telehealth industry will eventually become saturated.
There are several big commercial players in B.C. "COVID-19 has broken down a lot of telehealth barriers," says Cameron Burke, managing director, technology sector, at PricewaterhouseCoopers Canada. "What people were predicting would happen over the next three to five years happened in a matter of six months."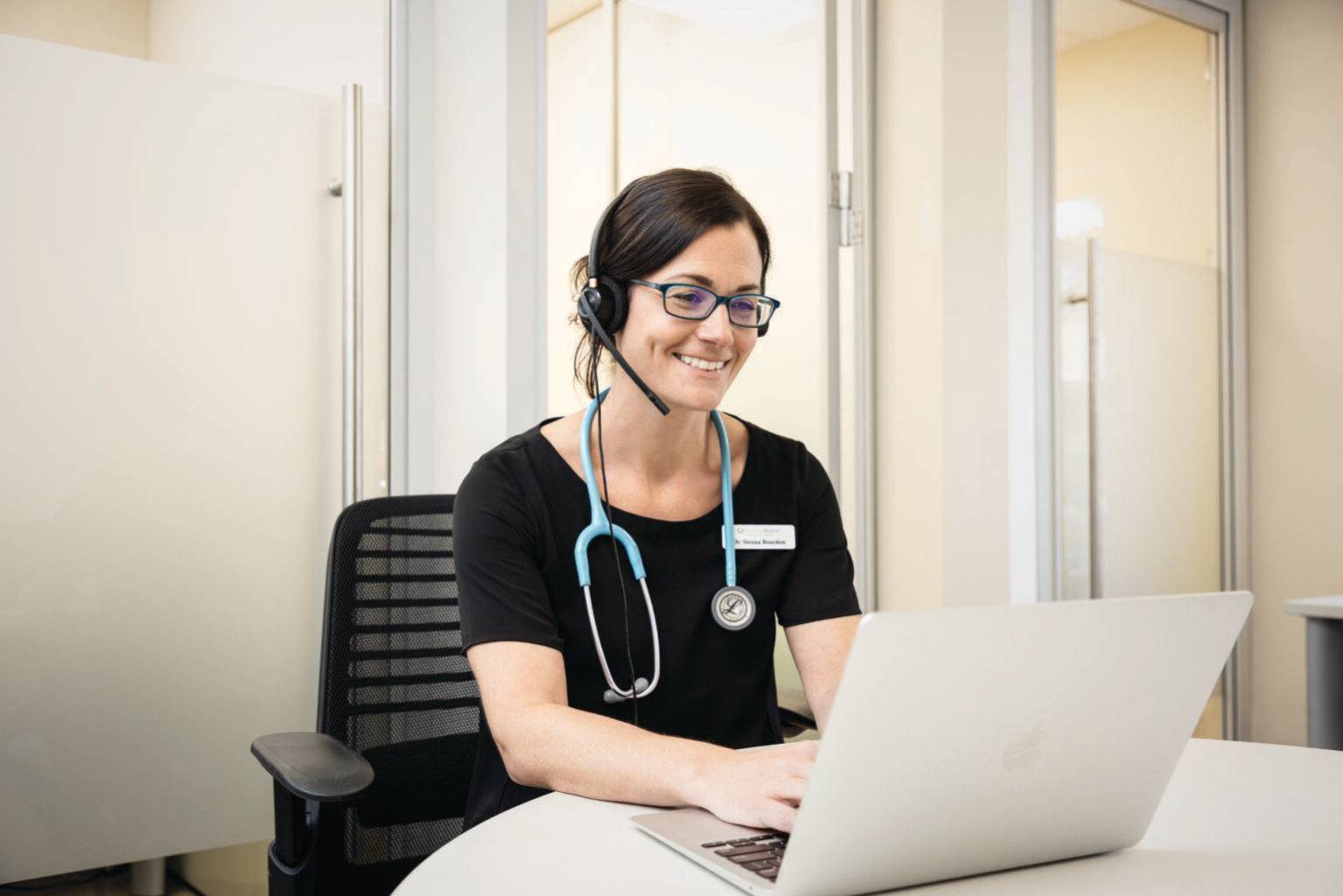 Telehealth has become an essential part of health care for physicians like Dr. Sienna Bourdon. Photo By: Jeffrey Bosdet.
For-profit, virtual delivery of health care includes 24-hour access to doctors, nurses and pharmacies via a computer or smartphone app. Practitioners can diagnose and treat common ailments, refer patients elsewhere and connect with pharmacies. Virtual health care also includes behind-the-scenes records and booking management systems, which schedule appointments and bill for services.
The two biggest players, both publicly traded and open to investors, are a grocery chain and a phone company. Loblaw and Telus are large, deep-pocketed companies that are building on the expertise of their main businesses to branch out into telehealth.
Telus has been involved in this field since 2007 and generates a staggering $800 million in revenue from its health operations. That compares with total revenue of $14.7 billion for the company. Loblaw has made two investments that it hopes will play to the strengths of its Shoppers Drug Mart subsidiary. (It does not share the financials of these ventures.)
Telus created Telus Health with the $763-million purchase of Emergis Inc., a Montreal-based e-commerce and technology company that was an early pioneer working with electronic health records. Another large acquisition came in 2018, when Telus spent $100 million to acquire Toronto's Medisys Health Group Inc., which ran 30 high-end health clinics across Canada.
Telus is cross-promoting its Babylon health care services, acquired in 2021, to its 10 million wireless mobile customers, encouraging them to download its health care app, which is free and links patients' to doctors who are available evenings and weekends. These doctors can prescribe drugs by phone or video and help with referrals. The software also helps doctors manage appointments and store patient records. In most provinces, government health care plans cover these costs.
Not to be outdone, Loblaw has been busy building its health care strategy. In 2020, it made a $75-million investment in Maple Corp., a promising telemedicine startup. The investment follows a trial in which Loblaw-owned Shoppers Drug Mart tested a Maple app and related services. This included virtual consultations through the Shoppers website for medical issues such as skin problems, allergies and infections.
Recently, Loblaw announced a partnership with the company League, a start-up that has developed an app similar to Telus' Babylon. League's PC Health app enables live chats with nurses, dietitians and others who can refer users to doctors, mental health support clinicians and vision care specialists.
Loblaw's 2019 annual report talks about its strategy, which includes Medeo, a technology that connects health care providers with patients online. Loblaw also has an electronic medical records platform called Accuro EMR that's available to more than 15,000 health care providers.
"Care Is Care"
Whether nonprofit or for-profit, we're fortunate here in B.C., as our provincial health plan covers almost all telemedicine. In other parts of Canada, a televisit may cost $60 and up; more on weekends. Specialists such as psychiatrists or dietitians may cost even more. So, despite budget woes, and a scarcity of doctors, nurses and walk-in clinics, telemedicine is here to stay. It doesn't replace in-person care, but it's as important a tool as an X-ray or stethoscope. Will Falk, a policy expert on digital health, sums it up best: "Care is care. Virtual care is no longer an adjunct therapy."
Statement on Virtual Carefrom the B.C. Ministry of Health
The Ministry of Health recognizes the significance of virtual care in our health-care system. As we saw during the COVID-19 pandemic, telehealth was critical to ensuring patients received timely care while maintaining social distancing measures. Adapting to this significant transformation necessitated a prompt response from both the ministry and health-care professionals, and … the outcomes achieved were commendable.
As we emerge from the pandemic, we understand virtual care may have limitations compared to in-person visits. That is why we are committed to working closely with the doctors of B.C. and physicians directly to ensure we strike the right balance between in-person and virtual care to ensure we continue delivering high-quality public health care to all people in British Columbia.
As part of our ongoing commitment to high-quality health care, B.C.'s new physician master agreement, ratified on December 6 by 94.15 per cent of B.C. physicians, includes provisions for the creation of an independent Virtual Care Clinical Reference Group (VCCRG). The VCCRG will provide detailed guidance on clinical practice and the appropriate balance between virtual and in-person care.
Future fees and rules for virtual care will be determined through extensive consultation with physicians, ensuring that decisions are not made unilaterally by the Medical Services Commission.
Every individual in British Columbia deserves access to high-quality public health care, whether through in-person or virtual means; our work continues.
The province continues to expand access to primary care services at urgent and primary care clinics through our transformational team-based primary care strategy. Efforts are underway to continue to strengthen primary care networks throughout B.C. and are supported through the new physician master agreement and improvements to the compensation model as a part of B.C.'s Health Human Resources Strategy.
By providing the compensation and practice environments family doctors need, we are ensuring they can focus on providing the best possible care to their patients, all within the public system.
The State of Telemedicine in Canada
50% of people had consulted their doctor using telemedicine.
89% of users turned to virtual health care for the first time during the pandemic.
13% of virtual consultations were related to COVID-19 symptoms.
50+% of telemedicine users had a positive experience.
84% of users are planning to continue using those services.
3/4 of users will continue to use telehealth.
2/3 of patients say that their health issue was solved during their consultation.
Additional Info
Media Contact : Douglas Magazine
Source : https://www.douglasmagazine.com/the-virtual-waiting-room-multi-billion-dollar-industry-telehealth-is-here-to-stay/