VIATEC Partners with joni to Provide Free Menstrual Care Products in the Workplace
VIATEC Partners with joni to Provide Free Menstrual Care Products in the Workplace
Walk into any washroom at VIATEC and you will not only see free toilet paper for use, but free joni menstrual care as well.
VICTORIA, BC, May 3, 2023 - Walk into any washroom at VIATEC and you will not only see free toilet paper for use, but free joni menstrual care as well. VIATEC is the latest organization to sign up with local company joni who is proudly serving workplaces and educational institutions of all sizes with wholesale period care and dispenser solutions for their onsite washrooms.
Anna Quinn, VIATEC's Marketing and Communications Manager, explained that the decision to partner with joni is part of the CEO's commitment to creating an inclusive environment.
Quinn noted that the tech sector is often male-dominated, and offering free period care products is a simple way to make all employees feel more included. "It's like toilet paper. We know it will be there in the washroom. So it doesn't feel fair to have to pay for period care at work," said Quinn. She also expressed gratitude for the convenience of having the products available in the washroom, so she does not have to bring her purse to the bathroom.
joni co-founder Linda Biggs emphasized the importance of providing menstrual care products in the workplace. "In 2024, all federally regulated businesses will be mandated to supply menstrual products as they do toilet paper—but it's good for business, too. When 87% of people who menstruate report being caught off guard at work—and 37% of them leave to get the products they need—that's a lot of absenteeism due to unexpected periods," said Biggs.
Quinn praised joni for making it easy for VIATEC to introduce period care products into its washrooms, despite the non-profit's budgetary considerations. She added that the timing of the partnership is perfect, as May is Menstrual Health Month.
joni received two awards for its innovative approach to period care, including the Victoria Community Tech Awards for Innovation and Social Good (2022). According to joni co-founder Jayesh Vekariya, the recognition is particularly meaningful because the company's success is owed in large part to the Victoria community.
###
About joni:
By 2030 the global Femtech industry will reach $103 bn worldwide yet little has changed in Canada within the industry in the last 30 years. Until now. joni is Canadian menstrual brand making sustainable disposable period care mainstream in a mission to make period equity possible through a groundbreaking freevend dispenser, wholesale solutions, and retail and direct to consumer subscriptions.
Quick Facts & Resources
joni for business: dispenser images
UN Sustainable Development Goals
Victoria Tech Community Award Winners 2022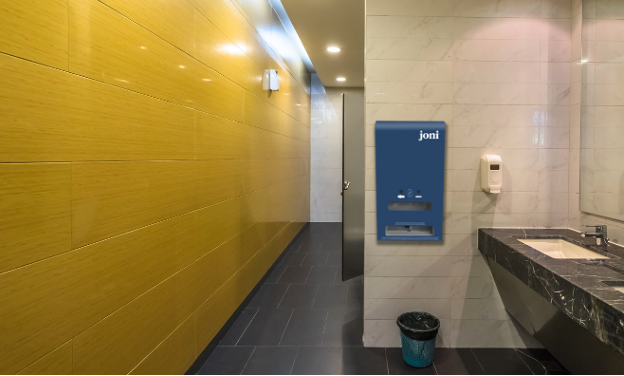 joni's battery-operated freevend dispenser in a public washroom.
Additional Info
Media Contact : Linda Biggs // linda@getjoni.com // 250-882-8335
Source : https://getjoni.com/