Victoria gaming doesn't play around
Victoria gaming doesn't play around
From baseball to battlegrounds and Flash to frontier technologies, the local gaming space is making a major name for itself.
Baseball video games peaked in 2005. Sure, some of the earliest games like RBI Baseball were groundbreaking. The versions that one of the sport's best-ever players, Ken Griffey Jr., put his name on in the late 1990s have their place. The behemoth franchise that Twitch streamers play now in MLB The Show is all the rage. But, I'm going with EA Sports' MVP Baseball 2005 all the way. I still play it regularly.
Part of the reason for the game's lasting legacy is that it was the last MLB-licensed game EA Sports released. EA dabbled in NCAA baseball for a few years before shelving its baseball product entirely in the late 2000s. That was until the company acquired the Victoria-based studio, Metalhead Software.
Metalhead's flagship offering is Super Mega Baseball. The pair of gaming companies linked up in 2021 and got to work on the game's next iteration. Super Mega Baseball 4 was released earlier this June.
Victoria gaming has thus taken up some mental real estate for me lately. It feels like Metalhead resurrected my childhood. I can't thank it enough for that. But, unbeknownst to me as recently as three weeks ago, Super Mega Baseball 4 is the mere tip of the colossal Victoria gaming iceberg. I had a trio of conversations that helped me to contextualize the space.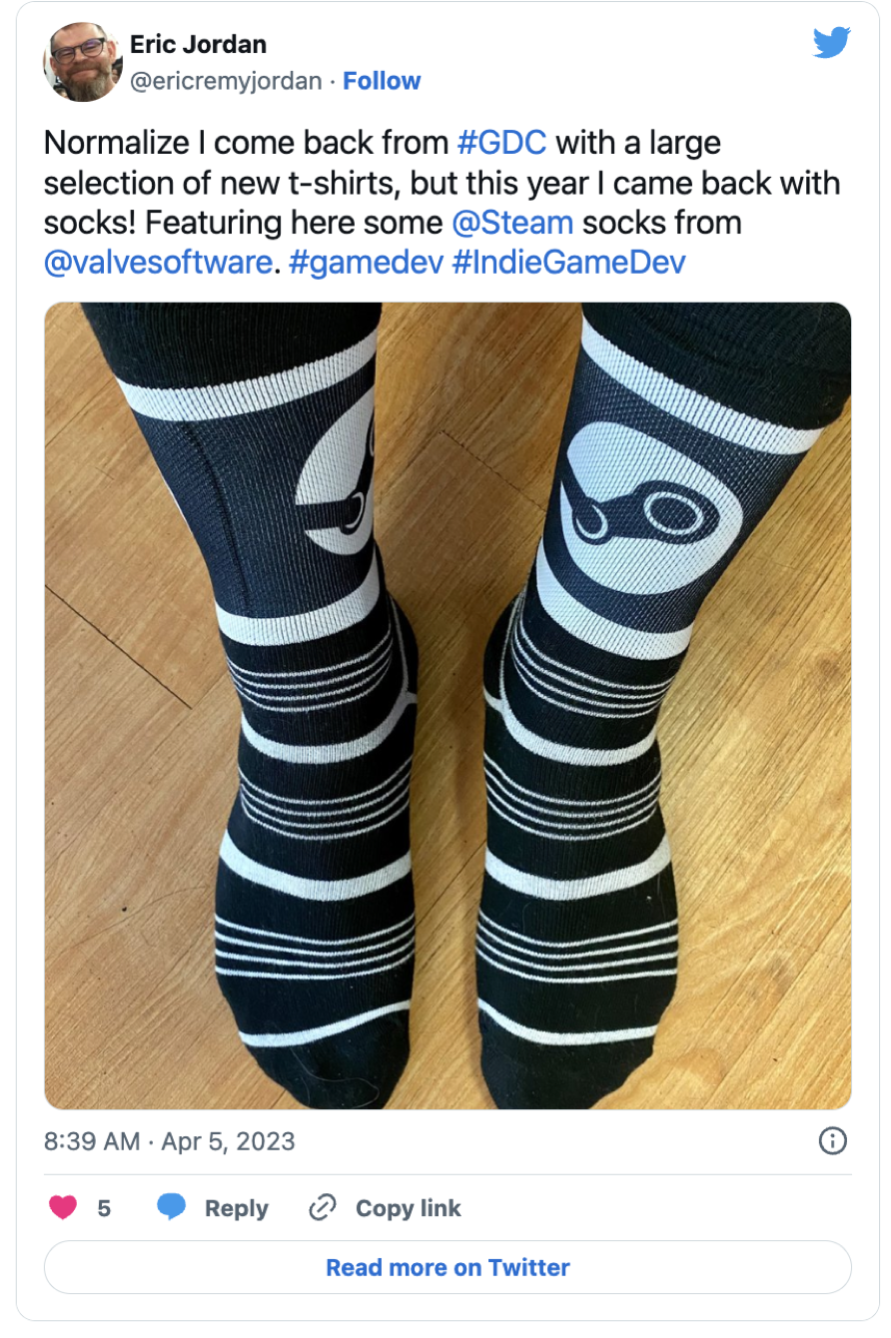 Ready player one
My first call was with Eric Jordan, a local leader in the space. Jordan has a noteworthy CV. In addition to being chair of the Video Game Industry Round Table with VIATEC and a DigiBC board member, he is the CEO of Codename Entertainment. He has been the producer for a variety of games, including Idle Champions and Crusaders of the Lost Idols. Each has been a winner for Codename. Both games are in the top one percent of most-played games on Steam, an often-used video game distribution platform.
Though he takes a leading role these days, Jordan is not Codename's founder — that honour goes to David Whittaker and Justin Stocks. Best friends since elementary school, the pair knew they wanted to start a game company together since they were in junior high. They grew up up-Island and then moved down to Victoria to go to UVic.
Just as they were graduating, Facebook was first opening up opportunities for games. David and Justin saw this as their chance and said, "Now's the time."
The company took off pretty much immediately, Facebook providing the early wind under its sails in its platform's ability to host games. The co-founders even felt confident enough to turn down job offers in order to pursue Codename full-time. Fast forward to today and the company has the Steam plaudits and a Canadian Video Games Awards 2015 nomination to hang its hat on.
As I soaked in these accolades and stats, I asked Jordan why gaming was so rich in Victoria.
"I think it's really a part of the broader British Columbian and Canadian story about that," he answered. "I think a lot of people don't realize just how big gaming is. It was far larger than box office totals even before COVID. On a per capita basis Canada was fourth, I believe, in terms of the number of people working in video games. There's a really long history of people making games in Canada overall. And then within B.C.''
Jordan went on to namecheck EA and Distinctive Software as O.G.s from the 1990s and 2000s. But, he did add that once the new millennium hit and technology advanced, smaller game studios could start to make a name for themselves. Thanks to the Facebooks and the Steams of the World Wide Web, you no longer needed to be in the epicentre where all of the game publishers were. Jordan began to see studios propping up outside of Vancouver.
As he zoomed back in on Victoria specifically, Jordan asked me if Tim Teh was on my list of gaming folks to talk to. Indeed he was.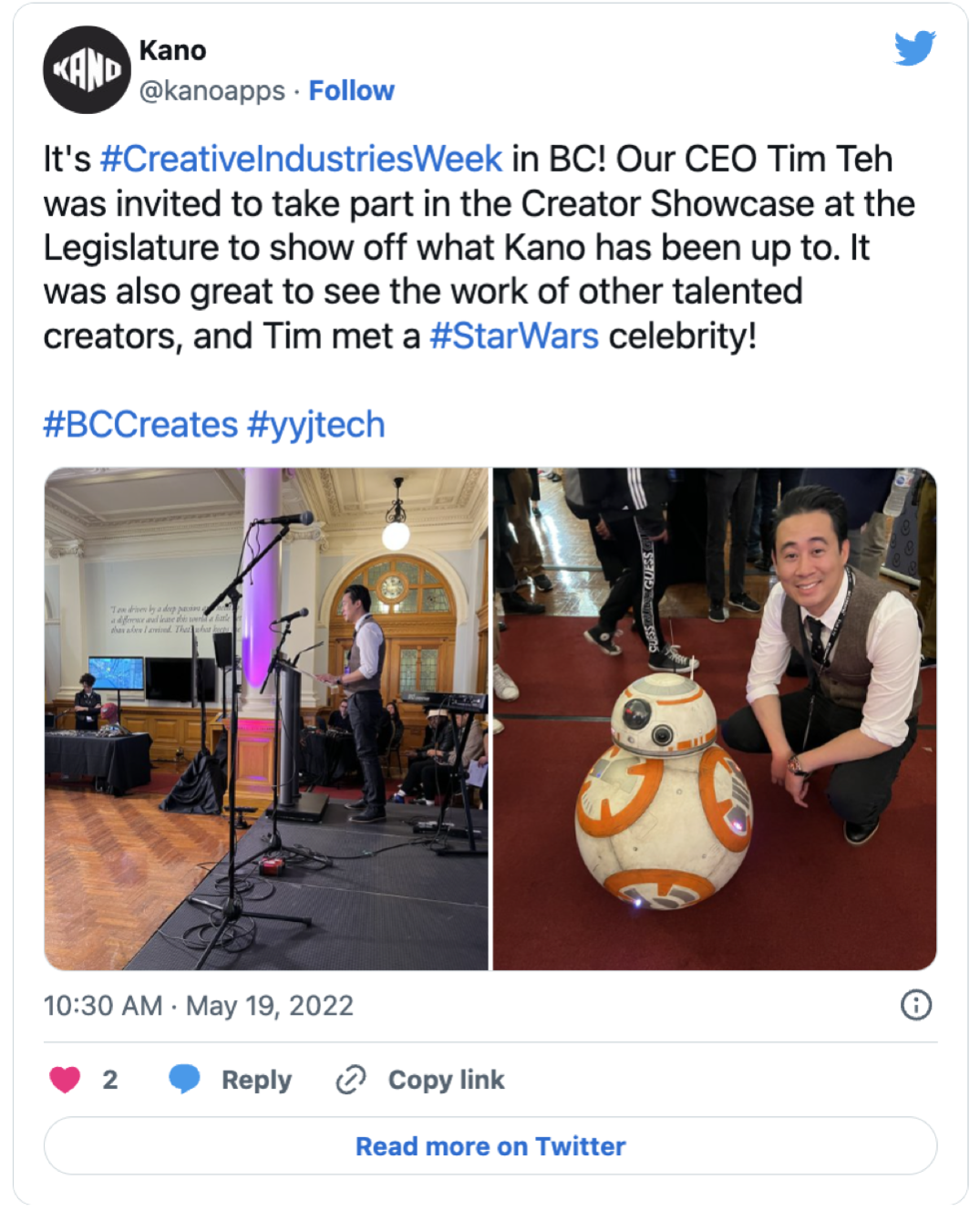 Ready player two
Unlike the Codename co-founders, Tim Teh had to wait until university to meet his future business partners. But, like Stocks and Whittacker, making games on Facebook was an early opportunity for his company.
Teh started Kano with two other co-founders (Eric Haight and Eric Alpini) in 2008. He notes that it was a similar downtown to the one we're in now. A computer science degree led Teh into software development but his contracts started to dry up. The Kano co-founders had also been moonlighting with their future business. They had some early wins, but not enough to be like, "Hey, let's quit our jobs."
That was until Kano was offered an opportunity to make a Facebook game. Teh said that this was the catalyst for his company. It was one that led to the trio going full-time, bootstrapping the business on "credit cards and sweat equity."
That first game, Viking Clan, took four months of work. But, within a couple of weeks, 250,000 people were playing it. Kano was able to monetize immediately, leading to an incredibly fast million-revenue milestone within the first year. Now in year 15, the company is rich in social capital, too. Teh, still using Viking Clan as an example, tells me of players meeting and getting married, becoming parents together, and even holding memorial services for players who pass away.
"We create games," he said, "but, we're actually [creating] meaningful connections within our games."
As he reflected on his and Kano's place in the Victoria tech ecosystem, he was impressed by the city's growth. Back when the company started, Teh described the community as more nascent. Now more prevalent than ever, the tech community — particularly the gaming space — is tight-knit and collaborative. He recites the old adage that a rising tide raises all ships.
Teh spoke highly of the talent pool he and fellow Victoria gaming companies have at their disposal. He added that eyeballs will continue to be on it thanks to moves like EA's acquisition of Metalhead. Meanwhile, my next call delivered another high-profile Victoria tech link up.
Ready player three
Unlike Teh, who came into view on my Google Meet screen in a rather stylish living room, or the mere voice call I received from Eric Jordan, Mike Wozniewski was on the move. As he walked through what appeared to be the bowels of an arena, it did give me the feeling that I was interviewing a professional athlete or wrestler. But, Madison Square Garden this was not. Instead, Wozniewski was navigating a behind-the-scenes area of Universal Studios.
Wozniewski's company, Hololabs, calls Universal a client. He was down in Florida ironing out some work on a project. The theme park is just one part of its portfolio, a roster that also includes video games, physical installations, theme parks, and VR/AR. Further, the company has collaborated with many renowned artists, participated in a number of festivals and conferences, and has won international awards for its products.
Originally founded in Wozniewski's hometown of Montreal, he and the business moved out to Victoria. It wasn't a blind move. He had family on the West Coast, so there was a familiarity. He also joked that the free childcare was a pretty good incentive, too. But that wasn't the sole reason. Professionally, he was hearing good things. Wozniewski recalled reading an article VIATEC shared in the mid-2010s that showed the space in an enticing light.
"I will give a shoutout to VIATEC," he said, "because VIATEC did participate in my decision to come here."
Once in town, Wozniewski keyed in on Victoria gaming's collaborative nature. Or perhaps "desked-in" is a better way of putting it: He reached out to the companies highlighted in that article and hit it off with TinyMob Games co-founders Christopher Hoefgen and Jamie Toghill. The pair actually had some extra desks that they weren't using and offered those to Wozniewski and Hololabs. The companies ended up sharing the space for close to a year-and-a-half (in a full-circle moment, Toghill is now Hololabs' vice president of operations).
Towards the end of our call, Wozniewski teased some upcoming projects Hololabs is crafting in the VR/AR space. This had me thinking of another local outfit: Hidden Bands.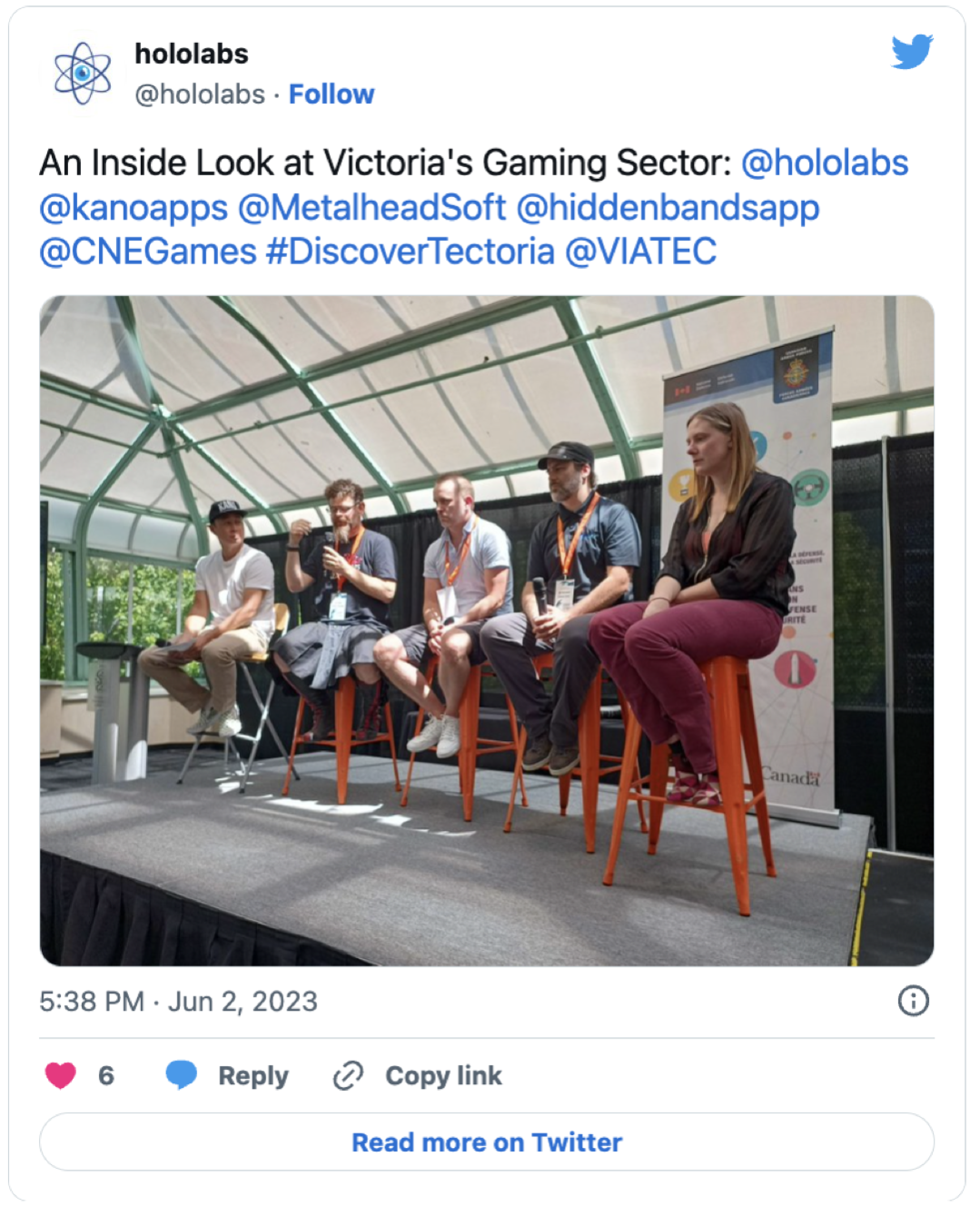 Plug in the headset
Helmed by Nicole Sorochan, who also has a founding role in Seattle-based video-games-for-mental-health company DeepWell, Hidden Bands creates unconventional, gamified experiences using geo-location and AR to help artists in the music industry grow and engage their audiences internationally. The company develops experiences that afford its users an opportunity to discover new music, a win for musicians and fans alike.
Companies like Hidden Bands or Hololabs feel like the continuation of this groundswell of momentum in the Victoria gaming community. The 2000s brought advancements that allowed it to become a hub. Local innovators took it and ran. Institutions like UVic and VIATEC allowed for the collaboration that took it from hub to hotbed.
Now, this next generation of innovators is capitalizing on emerging opportunities in AR/VR. Facebook certainly looks a lot different than it did a decade-and-a-half ago. Why wouldn't the gaming industry? As the natural rhythms continue to play themselves out, it appears that the local community is up to the task. The strengths of Victoria's gaming industry have it well-positioned to thrive well past 2023.
Even if I, personally, am stuck almost two decades back, firing up my Nintendo GameCube with a scratched copy of MVP Baseball 2005.
Additional Info
Media Contact : Victoria Tech Journal
Source : https://victechjournal.com/p/victoria-video-game-companies