Power Of Mentorship: Get Unstuck & Accelerate Career Growth
Events have proven to be an amazing tool for VIATEC to serve our members and they often achieve multiple goals at once. They provide a dynamic vehicle to recognize our leaders as examples, to learn from each other and experts, to celebrate wins and failures.
This event calendar contains not only VIATEC organized events, but events from the local tech sector and community! Scroll, read and register!
Click the "+" icon to post an event to our calendar!*
*Subject to approval by VIATEC. Please include bullets for "What you'll learn" or "What will be discussed".
Questions? Contact tectoria@viatec.ca
[Full Event Calendar]  [VIATEC Events]  [Tech Events]  [Community Events]
Power Of Mentorship: Get Unstuck & Accelerate Career Growth
Monday, March 8, 2021 (12:00 PM - 1:00 PM) (PST)
Description
A panel of mentors and mentees will share their mentorship stories and offer tips on how to get the most out of a mentorship program at this International Women's Day Special from 12 - 1pm PT.
It can be challenging to get the most out of mentorship, simply due to logistics -scheduling, tech issues and lack of agenda setting. At Locelle, we believe we can all benefit from mentorship when done right. We are committed to empowering women to grow and advance in their careers. And we believe mentorship is a powerful way to do just that. That's why we want to talk about it!
Tell me about this event.
On International Women's Day, March 8 from 12 - 1 pm PT, join us for The Power of Mentorship: Get Unstuck & Accelerate Career Growth. This virtual event will feature a panel of women who will share their mentorship journeys, the struggles they've faced with previous mentorship programs, and how mentorship helped them take their career to the next level. Panelists will reveal ways in which having a dedicated team of mentors can help women explore their own resilience, grow professionally and take steps to get ahead.
Who is this event for?
This virtual event is ideal for individuals and organizations of professional women who want to find a mentor and take steps toward advancing their careers. If someone in your network could benefit from mentorship, invite them along!
How do I attend?
Everyone is welcome to this FREE event. Register today to reserve your spot.
Mentor Panelists:
Hurriya Burney, Vice President at RBC Commercial Banking. With over a decade of experience in sales, relationship management and leadership as a senior team member within banking, Hurriya won Young Professional of the Year by Drishti Awards in 2020. As a mentor, she helps new immigrants, minorities, and ambitious women build confidence in the Canadian workplace to pursue their goals. She has worked with multiple entrepreneurs in diverse industries, advising and enabling them on their business growth.
Melanie Ewan, Co-Founder & Managing Partner at Volition Advisors. An entrepreneur herself in the tech space, as a mentor she provides other entrepreneurs with skills-based training and 1:1 sessions. With over 5 years of experience, she coordinates community events for startups and ecosystem partners, manages community building, communications/marketing, events, presentations, and operations. Melanie received Startup Canada's Entrepreneur Support Award in 2018.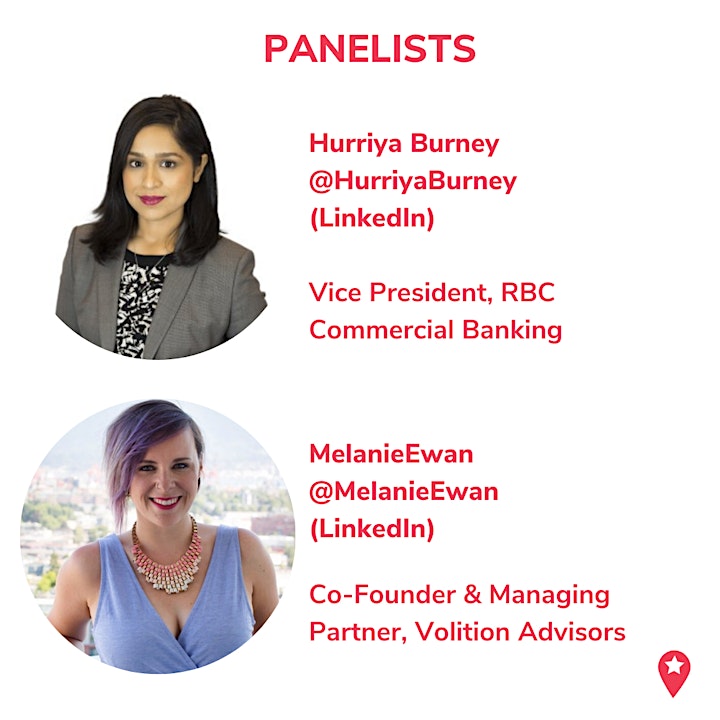 Virtual
Unit 63 - 560 Johnson St



Victoria

,

BC

V8W 3C6

Canada



Monday, March 8, 2021 (12:00 PM - 1:00 PM) (PST)
Categories
Virtual
Educational/Training
Diversity, Equity and Inclusion